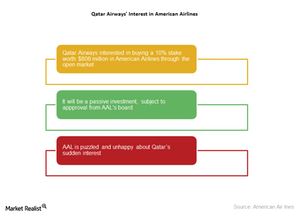 Why Is Qatar Airways Interested in American Airlines?
Qatar Airways interested in AAL
In the last week of June 2017, Qatar Airways' CEO, Akbar Al Baker, disclosed the carrier's interest in buying a 10% stake worth $808 million in American Airlines through the open market.
The start date hasn't yet been declared, and it will be dependent on AAL's share price. Qatar Airways' investment would be a passive one, meaning that the company wouldn't recommend any changes to AAL's board.
However, the investment would be subject to approval by AAL's board, as any investor wanting to acquire more than a 4.75% stake in AAL has to submit a written request to the board. Also, a foreign investor can't buy more than 24.9% of the carrier.
Qatar Airways' interest comes at a time of huge crisis. There's an airspace ban in Qatar, and nine Arab countries including Saudi Arabia have severed their ties with the country. To learn more, read Analyzing the Impact of the Qatar Crisis on Boeing.
Article continues below advertisement
AAL isn't interested
American Airlines has long been part of a group that's lobbied against Qatar Airways' operations in the United States. The group also includes Delta Air Lines (DAL) and United Continental (UAL), and it's been quite vocal about the government subsidies received by Gulf airlines such as Qatar, Etihad, and the United Arab Emirates.
In a letter to employees, AAL's CEO, Doug Parker, stated that AAL is puzzled and unhappy about Qatar's sudden interest.
Benefits to Qatar Airways
One obvious benefit for Qatar Airways could be earning solid returns on its investment in a highly profitable airline. Another motive could be the potential for expansion into the world's largest air travel market. According to some analysts, this might also be a political move aimed at strengthening Qatar's ties with the United States.
What the investment won't do is give Qatar Airways antitrust immunity. AAL has made it clear that it will continue to lobby against the Gulf carrier.
Investors can gain exposure to American Airlines by investing in the PowerShares Dynamic Large Cap Value ETF (PWV), which invests ~1.5% each in American Airlines and Southwest Airlines (LUV). Continue to the next article to find out if AAL will increase its dividend payout.