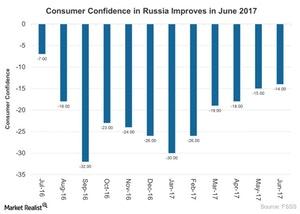 Why Consumer Confidence Improved in Russia in June 2017
Consumer confidence in Russia
Many macroeconomic indicators in Russia (ERUS) are showing signs of improvement in 2017. Expansion in the last two quarters has reduced pessimism in the Russian (RSX) economy. Consumer confidence stood at the highest level in the last five years in June 2017.
The consumer confidence in Russia increased to -14 in 2Q17 as compared to -15 in the previous period. Let's look at consumer confidence over the last year in the below chart.
Article continues below advertisement
Consumer confidence
Consumer confidence in Russia (RUSS) posted the highest reading since 3Q14, as households' expectation improved in regards to Russia's economic situation over the next 12 months. The following components of consumer confidence improved:
Pessimism in regards to the country's economic situation for the next 12 months was at -3 in 2Q17 compared to -4 in 1Q17.
Expectations regarding consumers' personal financial situations improved to -4 in 2Q17 from -6 in 1Q17.
Conditions for major purchases improved from -29 in 2Q17 from -30 in 1Q17.
Impact of improved consumer confidence
The consumer confidence is an important indicator of the overall health of the economy. Consumer confidence increases as the economy expands, and vice versa. The Russian (EEM) economy saw improved industrial production and exports in 2017 as its economic activity advanced in the last two quarters.
Retail sales in Russia (RUSL) also rose 1.2% on a year-over-year basis in June 2017, higher than the 0.7% gain in the previous month. June retail sales met market expectations and saw the strongest rise in retail sales in the last two and half years. Sales of non-food items increased, while those of food, beverages, and tobacco fell in June 2017 as compared to the previous month.
Investments
The iShares MSCI Russia Capped ETF (ERUS), which offers exposure to Russian equities, dropped by about 9% so far in 2017, as of July 20, 2017. Oil prices continue to weigh on the market performance of Russian equities in 2017.
Let's look at manufacturing activity in Russia in our next article.