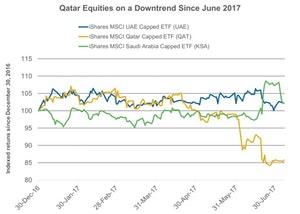 What the Qatar Crisis Means for Middle East Equities in July
By Mary Sadler

Jul. 11 2017, Updated 3:35 p.m. ET
Qatar crisis
Middle East equities (GULF) continued to drop after neighboring Arab nations decided that they would impose new measures or sanctions on Qatar (QAT) in the coming weeks. The four-nation alliance had presented the politically and economically isolated nation with a list of demands, including the shutdown of the Al Jazeera news network, the closing of Turkey's military base, the cutting of ties with the Muslim Brotherhood, and the reduction of relations with Iran.
GCC (Gulf Cooperation Council) nations including Saudi Arabia, the United Arab Emirates (UAE), Bahrain, and Egypt (EGPT) cut off diplomatic ties with Qatar on June 5, 2017, for its alleged support of terrorism.
The ongoing tussle for economic superiority among GCC nations has increased fear in the global oil market, however, leading to unstable prices over the past few weeks.
Article continues below advertisement
Middle East equities performance in 2017
The GCC's sanctions have led to a large sell-off from investors, resulting in the sharp decline for Qatar equities. Qatar's benchmark equity index, QS, has now suffered 14% in losses YTD (year-to-date) as of July 10, 2017, while emerging (EEM) markets have gained ~21% YTD.
The iShares MSCI Qatar Capped ETF (QAT) recorded losses of about 12% between June 5, 2017, and July 7, 2017. The iShares MSCI UAE Capped ETF (UAE) lost 2% during the same period, but the iShares MSCI Saudi Arabia Capped ETF (KSA) gained ~4% during the same period.
Oil dependence
Apart from the Qatar crisis, unstable oil prices impacted economies in the Middle East heavily in June 2017. Oil prices continue to decline amid fears of instability among Gulf nations and their agreement to limit oil (USO) production. The global oil supply overhang is expected to impact oil (UCO) prices for the remainder of 2017 as well as the economic growth of these oil-dependent economies.
In the next part of this series, we'll discuss the Saudi Arabian economy amid these struggles.