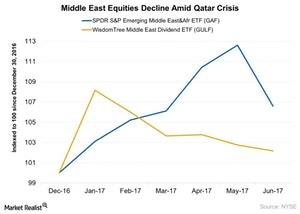 Qatar Crisis Has Impacted Equities in 2017
Qatar crisis
Decades of cold war among GCC (Gulf Cooperation Council) members in the Middle East resulted in the Qatar crisis in 2017. Several GCC nations including Saudi Arabia, the United Arab Emirates (UAE), Bahrain, and Egypt (EGPT) severed diplomatic ties with Qatar on June 5, 2017, due to the country allegedly supporting terrorism.
Globally, many nations are also supporting Saudi Arabia's stand against terrorism including the US (SPY) and European nations (VGK). However, these nations want an amicable solution to the crisis within the region. The crisis is expected to have a severe impact on Qatar. It depends on neighboring countries for food, trade, and travel.
Let's look at how equities have performed in the Gulf region in 2017 in the following chart.
Article continues below advertisement
Article continues below advertisement
Economic rivalry in the Middle East
Economic rivalry between the Gulf Arab states, led by Saudi Arabia, and Qatar started several years ago. Qatar's independent foreign policy and its support for a specific sect of the Islamic population clash with Saudi Arabia's strategic interest.
Saudi Arabia officially cut ties with Qatar in June 2017 due to Qatar supporting various terrorist groups including the Muslim Brotherhood, Al-Qaida, Islamic State, and some groups from the Qatif region in Iran.
Tension across the Middle East is expected to impact the region and could span across the globe (ACWI). The Middle East accounted for ~45.8% of global crude oil exports as of 2016. If the tension escalates to war, it could have a huge impact on global oil (USO) distribution. However, the crisis doesn't seem to have impacted developed markets' equities. If we look at markets in the US as of June 20, the S&P 500 has seen a negligible fall of ~0.14% after the announcement of Qatar's isolation on June 5, 2017.
Investing in Middle East ETFs
As you can see in the above chart, Middle East equities have fallen drastically after the announcement of economic sanctions on Qatar. As of June 20, the iShares MSCI Qatar Capped ETF (QAT) has fallen ~10% since June 5. During the same period, the SPDR S&P Emerging Middle East & Africa ETF (GAF) has fallen ~6%. The WisdomTree Middle East Dividend ETF (GULF) has fallen ~1%.
In the next part, we'll look at Qatar's economic activity in the past year.