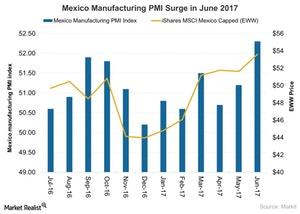 What Drove the Rise in Mexico's Manufacturing Activity in June?
By Mary Sadler

Updated
Manufacturing activity in Mexico
Mexico's manufacturing activity posted a strong performance after its output, new orders, and employment picked up the pace in June 2017. The Mexico Manufacturing PMI (purchasing managers' index) rose to 52.3 in June 2017, compared to 51.2 in May, according to a Markit report for July 2017.
Mexico's (UMX) productivity has picked up in the sectors that have benefited from structural reforms. These sectors include the energy, financial, and telecommunications sectors. Increased foreign direct investments and trade openness have helped activity to pick up in the manufacturing sector. Let's take a closer look at manufacturing activity in Mexico.
Article continues below advertisement
Manufacturing sector in June 2017
The manufacturing sector in Mexico (ILF) rebounded in June 2017 as manufacturing conditions improved after slightly lower activity in 1Q17. 
In June 2017, manufacturing activity saw its strongest expansion in factory activity since May 2016, with increased output, new orders, and rising employment. Manufacturing output rose for the second consecutive month in June 2017, and it also saw its strongest rate of expansion since October 2016. This rise in output was mainly the result of improved client demand, efforts to rebuild inventories, and new product launches.
New orders also rose mainly due to improved sales by domestic clients in June 2017. However, overall exports rose more slowly in 2Q17 compared to the previous quarter.
Employment and price pressures
As of June 2017, employment in Mexico had been continually rising since August 2014. These high levels of employment are mainly due to efforts to increase operating capacity and expectations of increased output in 2Q17. 
Meanwhile, price pressures remained weak as input prices rose at their slowest rate since 2015 and product prices fell in June.
Expectations
Mexico's (EEM) business optimism grew stronger in June 2017 compared to its five-year low at the beginning of 2017. Mexico's manufacturing sector is expecting there to have been improved exports and capital investments along with new marketing initiatives in June, according to the July 2017 Markit report.
The iShares MSCI Mexico Capped ETF (EWW), which tracks Mexican equities, rose ~4% in July 2017. Mexican markets seem to be drawing from improved economic activity in the United States (IVV) in 2017.
Let's look at Mexican consumer confidence in the next article.