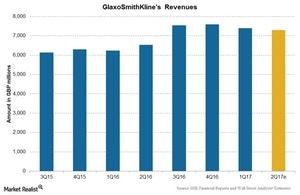 Unpacking GlaxoSmithKline's 2Q17 Revenue Expectations
GlaxoSmithKline's revenues
Analysts expect to see a growth of ~11.4% in GlaxoSmithKline's (GSK) 2Q17 revenues, which are expected to total nearly 7.3 billion British pounds due to strong product launches, acquired products from Novartis (NVS), and improvements in its supply chain.
Article continues below advertisement
Article continues below advertisement
Segment-wise expectations 2Q17
GSK's business is divided into three business segments:
Pharmaceuticals
Vaccines
Consumer Healthcare
The overall revenues for the Pharmaceuticals segment have declined since 2015, following the divestment of its oncology portfolio to Novartis (NVS). For 2Q17, the strong performance of respiratory products, immuno-inflammation products, and HIV products are expected to drive the growth in revenues for this segment, partially offset by lower sales of established pharmaceuticals and blockbuster drugs including Seretide and Advair.
For the Vaccines segment, revenues are expected to rise in 2Q17, mainly driven by the strong performance of Rotarix, Boostrix, Infanrix, Pediarix, and its meningitis and hepatitis vaccines.
Consumer Healthcare revenues are also expected to rise in 2Q17, following the strong sales expectations from Sensodyne, Otrivin, and Voltaren products.
To divest company-specific risks, investors can consider ETFs like the First Trust Value Line Dividend ETF (FVD), which has ~0.6% of its total assets in GlaxoSmithKline. FVD also has 0.6% in Novo Nordisk (NVO), 0.6% in Sanofi (SNY), and 0.5% in Teva Pharmaceuticals (TEVA).