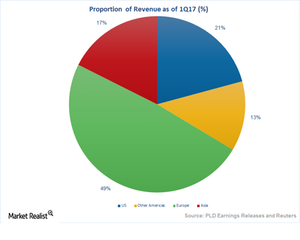 The Factors behind Prologis's Expected 2Q17 Upbeat Results
2Q17 expected to be decent
Prologis (PLD) is scheduled to report its 2Q17 earnings on July 18, 2017. Wall Street expects the company to report adjusted FFO (funds from operations) of $0.76, which would be a 27.3% rise year-over-year, and revenue of $583.5 million, which would be a 6.8% rise year-over-year.
The upswing in its top-line and bottom-line results expected by analysts reflects the confidence in the company's ability to continue its business momentum.
Article continues below advertisement
Prologis maintains its business momentum by way of consistent acquisitions, development, and disposition of its properties. This strategy helps it maintain its efficiency as well as enjoy the economies of scale. Prologis undertook several expansion activities in 1Q17, which are expected to accrue to revenue in 2Q17.
Expansion in 1Q17
Prologis has acquired full ownership of NAIF (North American Industrial Fund), which is worth $3.0 billion. It plans to rationalize its ownership in NAIF over the next few years.
In international operations, Prologis took over properties worth $600.0 million in order to expand its targeted European logistics. After the takeover, its European logistics assets are $3.2 billion.
Prologis also started a development venture worth $1.3 billion that's also expected to generate additional synergies in 2Q17. Its enhanced (or 50.0%) stake in its Brazilian venture is also expected to accrue to top-line results in 2Q17.
The company completed 20 build-to-suit development projects in the first half of 2017. These projects, which are worth $430.0 million, span seven million square feet of area. The company's strategic land banks located in advantageous regions, coupled with extensive multi-site consumer relationships, helped Prologis buy these projects.
Prologis also has undertaken several strategies to rationalize its portfolio in order to optimize its returns. It sold its share in its European logistics venture worth $84.0 million in 1Q17. It took these initiatives to help it maintain its profits by helping it focus on its core business as well as reduce costs by shedding non-performing assets.
Prologis competes closely with other REITs such as Duke Realty (DRE), Kilroy Realty (KRC), and Boston Properties (BXP). They constitute 14.1% of the iShares Cohen & Steers REIT (ICF). ICF's wide product diversity allows investors a cushion against macro headwinds.