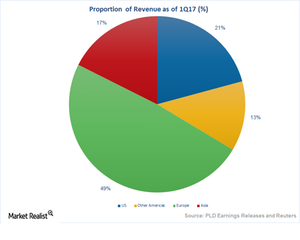 Robust US Business Growth Helped Prologis in 2Q17
Wide geographical diversity
Prologis's (PLD) properties are spread across the globe. This geographical diversity ensures that the company gets the optimum value from the retail and supply chains in different parts of the world from countries that are in different stages of development.
Article continues below advertisement
US strong on top-line growth
The US delivered very strong results during the quarter with a stupendous 29% rent growth and a 5% growth in same-store net operating income. Thanks to favorable market conditions, the US reported a 70-basis-point gain in occupancy during the quarter.
Demand remained strong in the region and net absorption was constrained due to lack of supply and available space for expansion. However, Prologis remains optimistic about attaining a balance between demand and supply by 2018 backed by project completions. Management expects the rate of market rent growth to moderate as supply increases in the market.
International business in 2Q17
Global market conditions also remained favorable for the company. Asia performed in line with management's expectations. However, Europe reported healthy net absorption during the quarter. Macroeconomic conditions in France boosted economic growth, thus boosting the company's business in the region. However, the market in the UK was lukewarm during the quarter.
Competitors
Wall Street expects Duke Realty (DRE), Kilroy Realty (KRC), and Boston Properties (BXP) to report revenues of $147.83 million, $127.01 million, and $399.59 million, respectively, in 2Q17.
Prologis and its above-mentioned peers together occupy 14.1% of the iShares Cohen & Steers REIT ETF (ICF). ICF's weighted market cap has wide product diversity that cushions against macro headwinds.