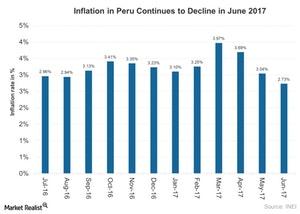 Peru's Inflation in 2017 and Slower Economic Activity
By Mary Sadler

Updated
Peru's economy in 2017
Peru's economy continues to suffer in 2017 from the damage caused by floods in March 2017 due to the ENSO (El Niño Southern Oscillation). The economic activity index fell to its lowest level in April 2017 in the last eight years. The lower level of activity in 2017 has resulted in a declining trend for inflation in Peru.
The inflation rate in Peru was 2.7% in June 2017 compared to 3.0% in May 2017. You can see Peru's inflation trend over the last year in the graph below.
Article continues below advertisement
Inflation close to target in June 2017
The consumer price index in Peru fell 0.16% in June 2017 compared to 0.40% in May 2017. The consumer price index saw a variation of about 2.7% over the last 12 months. Inflation in Chile returned to the target range of 1.0%–3.0% in June 2017 set by the Central Reserve Bank of Peru.
The decline in inflation resulted from falling prices for food and beverages, transportation, and communication. The core consumer prices, which exclude the volatile energy and food items, rose 0.20% in June 2017 compared to May 2017.
Peruvian recovery
Apart from weaker economic activity in Peru in the last few months, business and consumer confidence has also lost strength in 2017. Investments in infrastructure projects have also halted, mainly due to the Odebrecht corruption scandal. However, inflation close to the target levels should help Peru recover in the coming months, provided it stays within the target range.
On June 8, 2017, the Central Reserve Bank of Peru unexpectedly kept its benchmark interest rate unchanged at 4.0% after a 25-basis-point cut in May 2017. The market had expected the central bank to cut the interest rate another 25 basis points. However, the transitory supply-side shocks affecting inflation reversed in June, and the 12-month forward inflation expectations returned to the target, according to the Central Bank of Peru. The central bank has lowered its inflation target 2.0%–2.5% in 2017 and 2.0%–2.2% for 2018.