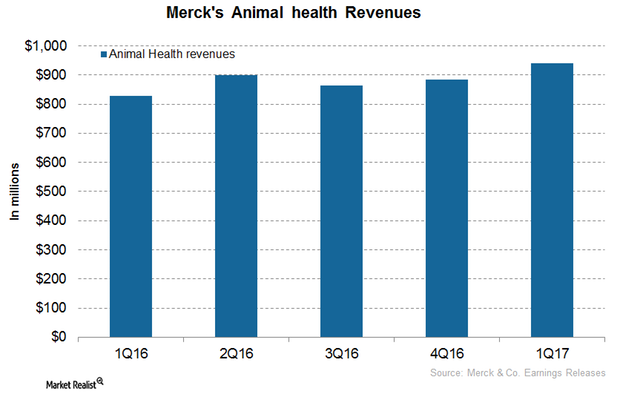 How Merck's Animal Health Business Is Expected to Perform in 2017
Revenue trends for Merck's Animal Health segment
In 2016, Merck's (MRK) Animal Health segment reported revenues of ~$3.5 billion, which reflected ~4% growth year-over-year (or YoY). In 1Q17, Merck Animal Health generated revenues of around $939 million, which reflected ~13% YoY growth and 6% growth quarter-over-quarter. The company expects its Animal Health business to witness steady growth in 2017.
Merck's Animal Health segment includes livestock products, poultry products, companion animal products, and aquaculture products. Livestock products include:
Nuflor: antibiotic
Bovilis/Vista: vaccine for cattle
Banamine: anti-inflammatory
Resflor: antibiotic and non-steroidal anti-inflammatory drug
Zuprevo: bovine
Poultry products include Nobilis/Innovax (Live Marek's Disease Vector) and Paracox/Coccivac (vaccines for prevention of coccidiosis).
The company has a wide range of products for companion animal health, including Nobivac vaccines, Otomax and Mometamaxas anti-fungal agents, and Panacur/Safeguardas broad-spectrum anti-helminthic.
The chart above illustrates the revenue trajectory of Merck's Animal Health business. To learn more about Merck's Animal Health performance statistics, please read How Merck's Animal Health Segment Performed in 2016.
Article continues below advertisement
Recent acquisition
In March 2017, Merck completed the acquisition of a leading Brazil-based, privately held manufacturer of animal health products, Vallee S.A. The acquisition could help the two companies develop more extensive product portfolios.
Recent approvals and product launches
In October 2016, the U.S. Department of Agriculture approved Nobivac canine flu vaccine for the prevention of diseases associated with canine influenza virus H3N8 and canine influenza H3N2. The regulatory approval could help Merck Animal Health commercialize the product in the US and also expand its product portfolio.
Merck's peers in the animal health market include Pfizer (PFE) through its subsidiary Zoetis, Eli Lilly (LLY) through its subsidiary Elanco, Bayer (BAYZF), Sanofi (SNY) through its subsidiary Merial, Boehringer Ingelheim's Vetmedica, and Virbac. The iShares US Pharmaceuticals ETF (IHE) has ~7.6% of its total portfolio holdings in Merck.