Keytruda Could Significantly Drive Merck's Revenue Growth
In January 2017, the European Commission approved Merck's Keytruda as a therapy for first-line metastatic non-small cell lung cancer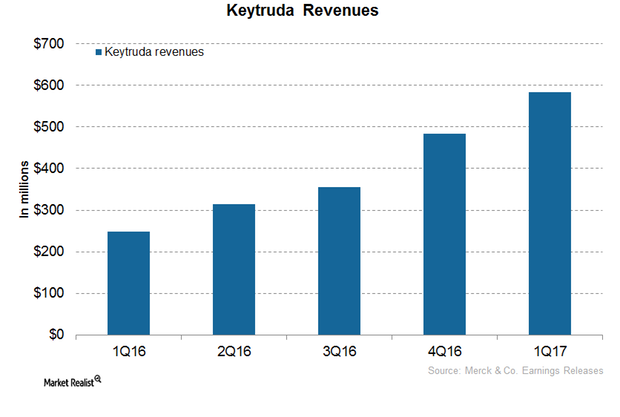 Keytruda's revenue trends
In 2016, Merck's (MRK) Keytruda generated revenues of around $1.4 billion compared to $566 million in 2015. In 1Q17, Keytruda generated revenues of around $584 million compared to $249 million in 1Q16. In 1Q17, Keytruda witnessed 21% quarter-over-quarter revenue growth.
Keytruda's launch as a first-line non-small cell lung cancer (or NSCLC) drug and increasing penetration among head and neck cancer patients contributed to the sales growth of the drug in the US. Increasing adoption of the drug for the treatment of melanoma drives the drug's sales growth internationally.
The growth in sales of Merck's Keytruda could boost the iShares Core S&P 500 ETF (IVV). Merck comprises about 0.83% of IVV's total portfolio holdings.
The above graph represents the revenue curve of Keytruda from 1Q16 to 1Q17. To learn more about the drug, please read Keytruda: Merck's Immuno-oncology Blockbuster.
Article continues below advertisement
Article continues below advertisement
Details on recent regulatory approvals
In January 2017, the European Commission approved Merck's Keytruda as a therapy for first-line metastatic non-small cell lung cancer (or NSCLC) after the drug demonstrated promising results in the KEYNOTE-024 phase 3 clinical trial. In the KEYNOTE-024 phase 3 trial, Keytruda demonstrated median progression-free survival (or PFS) of 10.3 months versus 6.0 months with chemotherapy.
The assessment of PFS was the primary endpoint of the trial. The objective response rate (or ORR) was 45% for Keytruda receiving patients compared to 28% for patients on chemotherapy. The overall superiority in a clinical trial compared to chemotherapy should help the drug's marketing in Europe.
In March 2017, the FDA approved Keytruda for the treatment of patients with refractory Hodgkin's lymphoma (or cHL) or patients who have relapsed cHL after three or more prior therapies.
The FDA approved the drug after demonstration of promising results in non-randomized, open-label KEYNOTE-087 trial. The drug demonstrated ORR of 69% along with complete remission rate (or CRR) of 22% and partial remission rate (or PRR) of 47%.
In Merck's Keytruda may face stiff competition from Bristol-Myer Squibb's (BMY)'s Opdivo, Pfizer's (PFE) Xalkori, and Eli Lilly's (LLY) Erbitux.