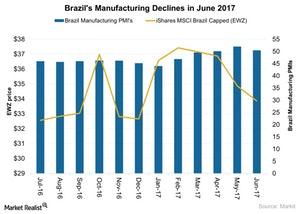 Inside Brazil's June Manufacturing Activity
Brazil's political chaos
The Brazil (EWZ) Manufacturing PMI (purchasing managers' index) fell slightly in June 2017 due to political turmoil in the country's government. President Michel Temer has been implicated in several corruption charges since March 2017, and his austerity measures have affected confidence levels, resulting in protests.
The manufacturing PMI in Brazil (BRZU) dropped to 50.5 in June 2017 from 52 in May. The manufacturing PMI level above 50 in June indicates the third consecutive month of expansion in the sector.
Article continues below advertisement
Business conditions in Brazil
Operating conditions in Brazil's (FBZ) manufacturing sector improved in June 2017, and the continuous growth in new orders and increased output have caused the manufacturing PMI to stay above the critical level of 50. But rates of expansion for both remained soft in June, compared with rates in May.
Purchasing activity and employment fell in June, mainly due to cost-cutting efforts, while price pressures in Brazil's manufacturing sector remained high. Input costs grew sharply compared with output prices due to low pricing power and excess supply. The weaker Brazilian real (BZQ) compared with the US dollar (UUP) also put upward pressure on the cost of inputs in June.
Investment impact
Brazilian manufacturers are still optimistic about output growth over the next year. New product launches and increased export opportunities boosted confidence levels in the manufacturing sector in June.
That said, crucial economic reforms are expected to be delayed due to President Temer's corruption scandal. Investors will need to watch the political development in Brazil for cues.
Notably, the iShares MSCI Brazil Capped (EWZ), which tracks Brazilian equities, fell ~2% in June.