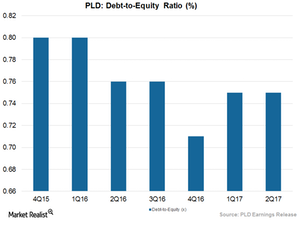 How Prologis Improved Its Balance Sheet
2Q17 performance
During 2Q17, Prologis (PLD) reported higher-than-expected top-line and bottom-line results backed by higher growth in rent and net promote income.
The company has deployed a significant amount of capital in 2Q17 for expansion of its properties in high demand and high barrier markets. Prologis, like other REITs, funds its capital from debt and equity.
The company maintained a debt-to-equity ratio of 0.75x for 2Q17, which was lower than the industrial mean of 1.07x. During 1Q17, PLD also maintained a debt-to-equity ratio of 0.75x.
Article continues below advertisement
Financing activities improved leverage of balance sheet
Prologis has access to debt around the globe at attractive rates. During 2Q17, Prologis completed $2.9 billion of financing activity mainly through the sterling and the yen. This financing activity has helped the company bring down its weighted average cost of debt by ten basis points to 3%. It has also enabled the company to lower its extended maturities by six months to 5.3 years. The balance sheet has improved, and the management is confident of self-funding its future capital deployments with its present liquidity.
The company ended the quarter with cash and cash equivalents of $3.7 billion and 95% net equity exposure. Prologis reported a net debt of $10.8 million in 2Q17 compared to an estimated $10.4 million.
Peers Duke Realty (DRE), Kilroy Realty (KRC), and Boston Properties (BXP) have debt-to-equity ratios of 0.89x, 0.70x, and 1.77x, respectively, in 2Q17.
Prologis and its competitors together constitute 14.1% of the iShares Cohen & Steers REIT ETF (ICF). ICF's weighted market cap has wide product diversity.