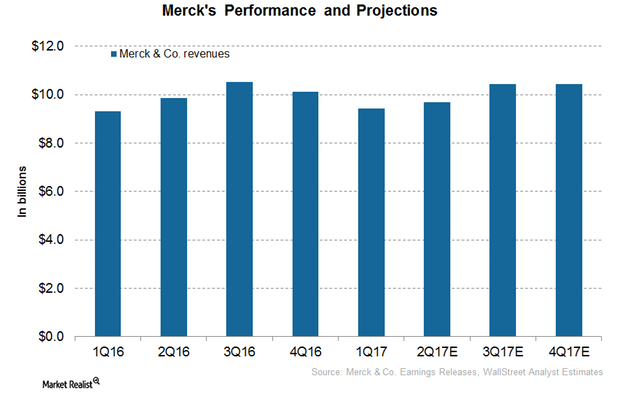 How Merck Is Expected to Perform in 2017
Merck & Co.'s revenue trends
In 2016, Merck (MRK) reported revenues of ~$39.8 billion, which represents ~1% growth year-over-year (or YoY). In 2016, Merck's Pharmaceutical business generated revenues of ~$35.1 billion, which reflected 1% YoY growth.
In 2016, Keytruda, Gardasil, and ProQuad were the primary growth drivers and reported YoY revenue growth of around 148%, 14%, and 9%, respectively.
In 1Q17, Merck generated revenues of ~$9.4 billion, which reflected 1% YoY growth and a 7% decline quarter-over-quarter. In 2016, loss of exclusivity (or LOE) of Zetia, Cubicin, and Nasonex in the US and Remicade in Europe led to a decline in revenues of ~$700 million in 1Q17.
In 1Q17, Merck reported earnings per share (or EPS) of ~$0.56 compared to $0.40 in 1Q16. In 1Q17, Merck generated GAAP[1. generally accepted accounting principles] net income of ~$1.6 billion compared to ~$1.3 billion in 1Q16.
The company expects its GAAP net revenues in fiscal 2017 to reach $39.1 billion–$40.3 billion. Merck also expects its fiscal 2017 EPS to be $2.51–$2.63.
The chart above represents the revenue curve of Merck from 1Q16 to 1Q17 and analysts' estimates from 2Q17 to 4Q17. To learn more about Merck's valuations, please refer to A Close Look at Merck & Co.'s Valuation after 1Q17 Earnings.
Article continues below advertisement
Merck's 1Q17 expenses
In 1Q17, Merck reported marketing and administrative expenses of ~$2.4 billion, which reflected an ~4% increase YoY. The company reported R&D expenses of ~$1.8 billion, representing ~8% YoY growth.
Key growth drivers for 2017
In January 2017, the European Commission approved Keytruda as a first-line therapy for patients with metastatic non-small cell lung cancer who have tumors with high PD-L1 expression without EGFR (epidermal growth factor receptor) or ALK-positive tumor mutation.
In March 2017, Keytruda also received FDA approval for the treatment of patients with refractory Hodgkin's Lymphoma (or cHL) and patients whose cHL relapsed after at least three prior therapies. These regulatory approvals could boost Keytruda's sales in 2017.
Merck's Gardasil and Zepatier are also expected to witness steady revenue growth in 2017. Merck's peers in the immuno-oncology drugs market include Bristol-Myers Squibb (BMY), Pfizer (PFE), Novartis (NVS), Amgen (AMGN), Genentech, and AbbVie. The SPDR S&P 500 ETF (SPY) invests 0.83% of its total portfolio holdings in Merck.