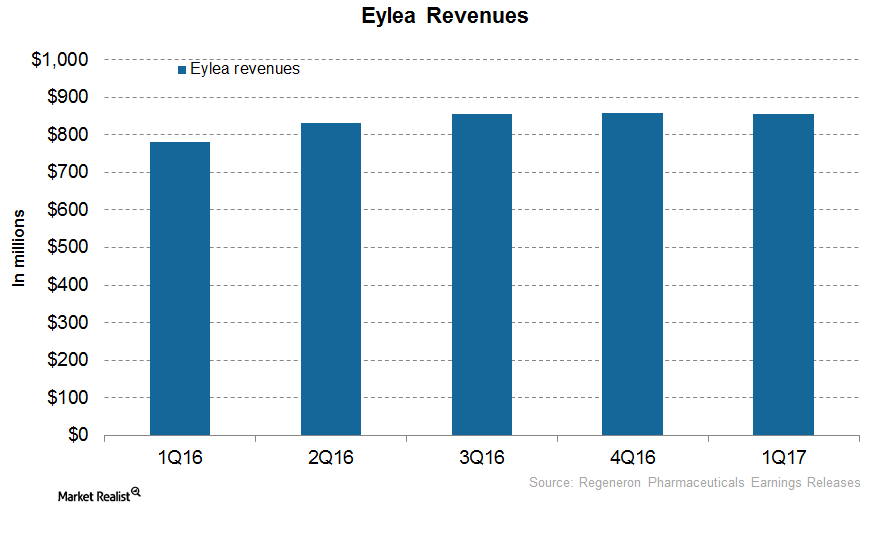 Eylea Could Continue to Generate High Revenue
Eylea's revenue trends
Regeneron Pharmaceuticals (REGN) markets Eylea in the United States, and Bayer (BAYZF) commercializes the drug outside the US market. In 2016, Regeneron Pharmaceuticals' Eylea reported revenue of ~$3.3 billion from the United States, which reflected a ~24% rise year-over-year (or YoY). In 1Q17, Eylea reported revenue of ~$854 million, a ~9% rise YoY.
In 1Q17, Eylea generated revenue of ~$484 million outside the United States, a ~16% rise YoY. According to the terms of the agreement with Bayer, Regeneron Pharmaceuticals earned $175 million from its share of net profit from its sales of Eylea outside the United States in 1Q17.
The above graph represents Eylea's revenue curve in the United States from 1Q16 to 1Q17. To know more on Eylea, read Eylea Continues to Be a Key Growth Driver for Regeneron in 2017.
Article continues below advertisement
About Eylea
Eylea is a vascular endothelial growth factor (or VEGF) inhibitor indicated for the treatment of individuals with neovascular (or wet) age-related macular degeneration (or AMD), macular edema post renal vein occlusion, and diabetic macular edema (or DME). Eylea is also used for the treatment of diabetic retinopathy in patients with DME.
Currently, Eylea holds leading position among branded VEGF inhibitors. Regeneron Pharmaceuticals is extensively conducting clinical trials for the label expansion of Eylea.
Regeneron Pharmaceuticals is conducting a Phase 3 PANORAMA trial to evaluate the safety and efficacy of intravitreal aflibercept in individuals with moderately severe to severe nonproliferative diabetic retinopathy. The primary purpose of the study is to evaluate the efficacy of the drug compared to sham treatments in patients with moderately severe to severe nonproliferative diabetic retinopathy.
The primary endpoint of the study is the assessment of the proportion of patients who demonstrate improvement of two or more steps from baseline on the diabetic retinopathy severity scale.
Regeneron Pharmaceuticals is also conducting a Phase 2 RUBY trial and a Phase 2 ONYX trial for the evaluation of aflibercept and nesvacumab combination therapy for the treatment of patients with DME and AMD.
Eylea faces stiff competition from Roche Holdings' (RHHBY) Lucentis and Avastin. Pfenex (PFNX) is developing a biosimilar of Roche's Lucentis. Notably, the Vanguard S&P 500 ETF (VOO) has ~0.18% of its total portfolio holdings in Regeneron Pharmaceuticals.