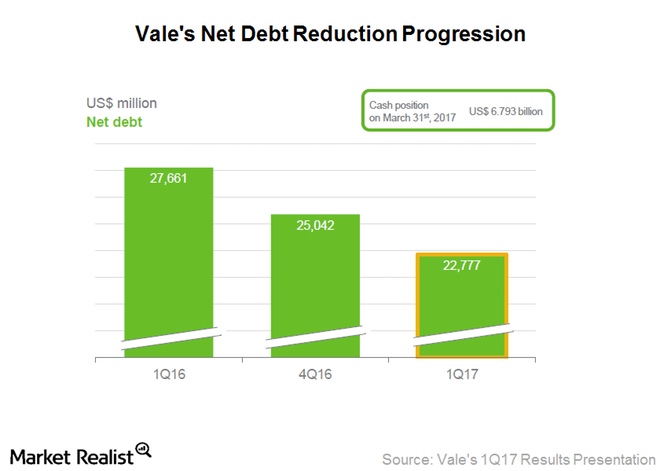 Can Vale SA Reverse Its 2Q17 Performance in 2017?
Vale's performance reversal in 2Q17
While Vale SA (VALE) outperformed peers (PICK) including Rio Tinto (RIO) and BHP Billiton (BHP) by rising 24.7% in 1Q17, its performance deteriorated significantly in 2Q17. A strong operational performance and the announcement regarding the consolidation of its shares supported its stock in 1Q17.
This support, however, waned as Vale's 1Q17 results came in weaker than expected. Another factor that hurt the stock price was the news about the involvement of Brazil's (EWZ) President, Michel Temer, in a corruption scandal, which led to political turmoil in the country.
Uncertainty is not good for equity stocks. The Brazilian president's business-friendly policies had been previously giving Brazilian stocks a boost.
Article continues below advertisement
Consolidating share classes
On June 27, 2017, Vale's shareholders approved a corporate reorganization plan for the company. Investors might recall that in February, Vale announced that it would be seeking to merge its two existing classes of stock. This could mean that all stocks carry voting rights, instead of only the previous ~61%. As a result, Vale's controlling shareholders in Valepar would lose control of the company.
This move is seen as a major governance overhaul that would likely increase transparency and equal rights for all Vale shareholders. It would also reduce the potential for government interference. Vale's management mentioned increased liquidity and "higher access to capital markets" as other potential benefits from the consolidation, which could lead to a lower cost of capital.
Debt reduction
Vale is on track to achieve its debt target of $15 billion–$17 billion by the end of 2017. At the end of 1Q17, the company had a net debt of $22.8 billion, compared with $25.1 billion at the end of 4Q16. Vale is trying to improve its balance sheet by disposing of non-core assets along with the generation of internal cash flows.