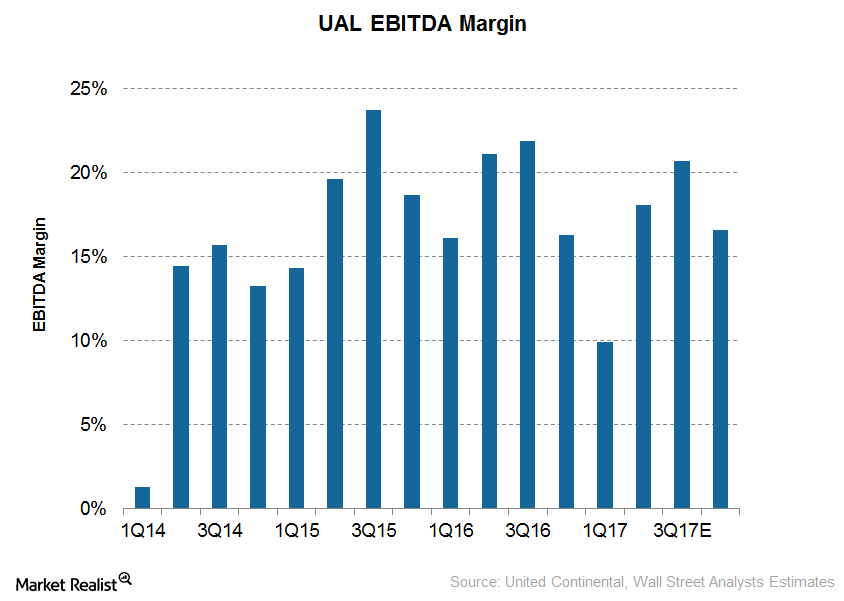 Can United Continental Improve Its Margins in 2017?
Analyst estimates
United Continental's (UAL) EBITDA is expected to fall 10% to $1.8 billion. This declining trend is expected to continue in 3Q17 and then improve in 4Q17. EBITDA is expected to fall 0.9% to $2.2 billion in 3Q17 and then grow by 5.4% to $1.6 billion in 4Q17. The primary reason for the expected fall is declining EBITDA margins.
EBITDA margins are expected to fall 18.1% in 2Q17 as compared to 21.1% in 2Q16 to 20.7% in 3Q17 as compared to 21.9% in 3Q16. For 4Q17, EBITDA margins are expected to fall 16.6% from 16.3% in 4Q16.
For 2017, analysts expect EBITDA margins to fall 16.6% leading to an EBITDA of $6.9 billion as compared to 2016's EBITDA margin of 19% with an EBITDA of $6.9 billion.
Article continues below advertisement
Costs to rise
United Continental has guided for the second quarter cost per available seat mile (or CASM-Ex fuel) to rise 4%–5% to 9.95–10.05 cents. For the full year, costs are expected to rise 2.5%–3.5% to 10.06–10.15 cents.
Fuel costs are also expected to rise to $1.70–$1.72 per gallon as compared to $1.44 in 2Q17. Labor costs are also expected to rise. In January, United Continental's pilots approved a two-year extension of their existing contract, which will lead to a 22% growth through 2018 for the pilots.
Peer comparison
Analysts are expecting all major airlines to see declines in 2017 including legacy carriers like Delta Air Lines (DAL), American Airlines (AAL), low-cost carrier Southwest Airlines (LUV), and niche legacy players like Alaska Air (ALK).
Investors can gain exposure to United Continental by investing in the PowerShares Dynamic Large Cap Value Portfolio (PWV), which invests 2.3% of its portfolio in UAL. Continue to the next article for a discussion of other key metrics to watch for.