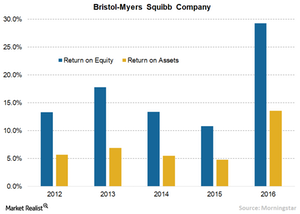 How Bristol-Meyers Squibb Has Benefited from Intangible Assets
By VanEck

Updated
VanEck
Intangible Assets in Action: Four Case Studies of Moat Companies
To demonstrate the power of intangible assets in creating economic moats, we highlight two wide moat companies based in the U.S., big pharma Bristol-Meyers Squibb and home-improvement retailer Lowe's. We also explore two narrow moat companies, Germany's big pharma Bayer, and global cruise-ship operator Carnival, headquartered in the U.K.
Bristol-Meyers Squibb Company (BMY US) holds a "wide economic moat" rating from Morningstar, based on its extensive list of patent-protected drugs, global sales force, and economies of scale. Morningstar Research explains that BMY's patent protection "allows the company to price its drugs at levels that translate into superior returns on invested capital compared with its cost (particularly in cancer drugs, a focus for Bristol)." BMY's patents are a strong intangible asset and provide it with plenty of lead time to research and introduce next generation new drugs. Bristol boasts a strong distribution channel and sales force, which help it to partner with smaller drug companies to gain access to externally created drugs. Finally, Bristol benefits greatly from its brand identity, its sheer size, and a healthy balance sheet with ample cash.
Article continues below advertisement
Market Realist
Bristol-Meyers Squibb has a wide economic moat
Bristol-Meyers Squibb (BMY) is engaged in the discovery, development, licensing, manufacturing, marketing, distribution, and sale of pharmaceutical (JNJ) (NVS) and nutritional products.
Over the past few decades, BMY has undergone a significant transformation. It's become a leading biopharmaceutical company (XLV) (VHT) known for its innovations and prominent scientific discoveries, mainly due to its intangible assets such as strong people values and superior patents. BMY considers its people to be its competitive advantage, and it plans to build long-term, sustainable growth through innovation.
Consistent growth story
During the last ten years, BMY's revenue has risen at a compound annual growth rate of 2.5%, and its earnings have risen at a rate of 8.4%.
The company's average ROE (return on equity) during the last five years has been 16.9%, compared to sector median ROE of 12.5%. Its average ROA (return on assets) has been 7.3%, compared to the sector median ROA of 6.3%.
As we mentioned above, the company considers its people to be its most valuable asset, a notion that's substantiated by the fact that its revenue per employee is much higher than the industry standard. In the past five years, the company's revenue per employee has been $658,000, compared to sector median of $310,000.