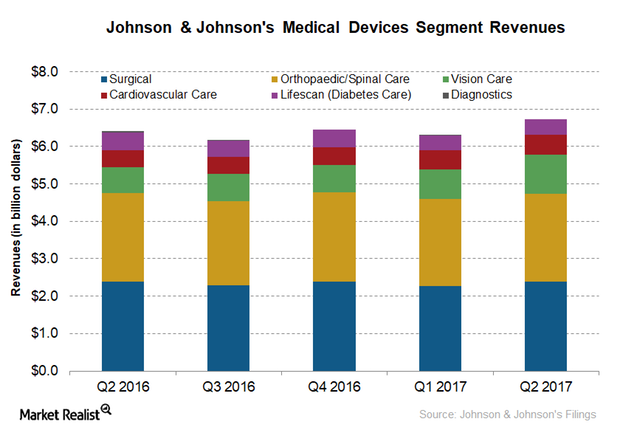 Behind the Major Drivers of JNJ's Medical Device Growth
Johnson & Johnson (JNJ) reported Medical Devices segment sales of ~$6.7 billion in 2Q17, compared with $6.4 billion in 2Q16.
Overview
Johnson & Johnson (JNJ) reported Medical Devices segment sales of ~$6.7 billion in 2Q17, compared with $6.4 billion in 2Q16. This segment's sales contributed ~36% to JNJ's total revenues and registered a ~4.9% YoY (year-over-year) growth for the quarter.
In 1Q17, this segment reported a ~3% YoY sales growth. This growth was driven by a successful strategic restructuring plan, which started in 2016, aimed at reviving the Medical Devices segment. As part of the plan, JNJ has been focusing on boosting its presence in high growth areas. (For more, check out "How Johnson & Johnson Hopes to Boost Its Medical Device Segment.")
Article continues below advertisement
Article continues below advertisement
Segment sales drivers 
In its Medical Devices business, JNJ reported operational growth of ~5.9%. Sales growth in the US came in at around 6.1%, while international sales rose 5.8%. But the segment saw witness weakness in the Diabetes business.
Medical Device sales in 2Q17 also included sales from the Abbott Medical Optics business, which was acquired by JNJ from Abbott Laboratories (ABT) in February 2017.
The cardiovascular business registered strong growth in 2Q17, driven by a ~15% growth in electrophysiology due to the uptake of new products like Thermocool Smarttouch and advanced catheters.
But specialty surgery sales fell in 2Q17 due to market share losses in infection prevention and aesthetics. Orthopedics sales also registered weakness due to pricing pressures and competition, while the spine business continued to be a weak area for JNJ.
Recent acquisitions in 2Q17
JNJ completed its acquisition of Tissue Regeneration Systems in April 2017. In February 2017, the company completed the acquisition of Abbott Medical Optics.
Torax Medical, the manufacturer of the LINX reflux management system, was acquired in March 2017. Megadyne Medical Products and Neuravi Limited are among the other recent acquisitions that contributed to the company's electrosurgery and cardiovascular sales.
Competitors and ETFs
JNJ's major competitors in the medical device industry include Medtronic (MDT) and Stryker (SYK), which are expected to report sales growths of 4.3% and 4.8%, respectively, in their most recent quarters.
Investors interested in participating in the growth potential of JNJ can consider investing in ETFs like the iShares Core S&P 500 ETF (IVV), which invests ~1.8% of its total holdings in JNJ.
Now let's discuss the Medical Device segment's future growth potential.