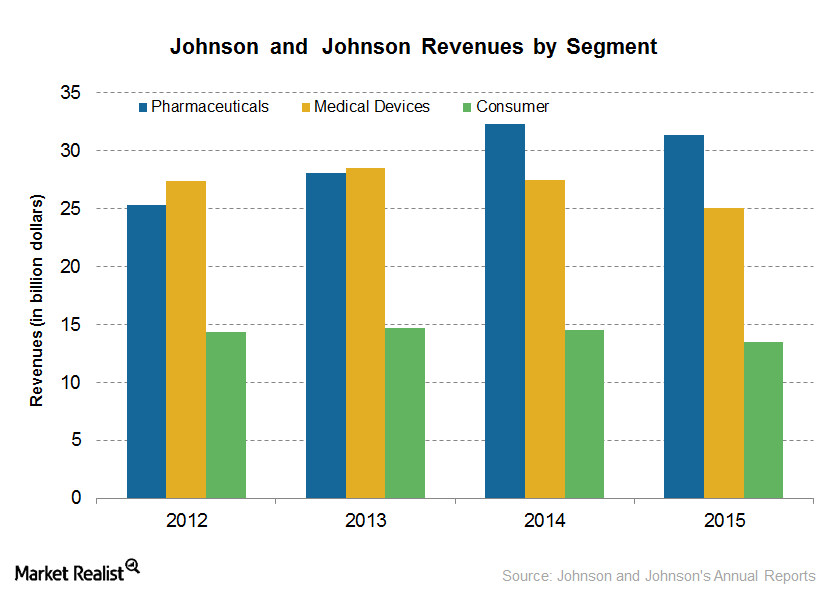 How Johnson & Johnson Hopes to Boost Its Medical Device Segment
Segment overview
Johnson & Johnson's (JNJ) medical device business segment comprises of cardiovascular, diabetes care, orthopedics, surgery, and vision care divisions. The orthopedics and surgical divisions are the key growth drivers of the segment. These segments generated ~$9.3 billion and ~$9.2 billion, respectively, in 2015, for a combined 26.4% of the company's total sales. J&J faces tough competition from Stryker (SYK), Zimmer-Biomet Holdings (ZBH), and Medtronic (MDT) in the orthopedics space.
Article continues below advertisement
Resource allocation to priority platforms
Johnson & Johnson have initiated a strategic restructuring of its medical device business to help build a robust and sustainable operational structure for the segment. The disposal of unprofitable and low-margin business with low-growth prospects and investment in high-growth segments is the principal idea behind the restructuring of the medical device segment. According to the company, the high growth platforms include endocutters, knees, electrophysiology, and trauma. Investments accelerate the growth and improve the profitability of the business segment.
Cost-cutting measures and restructuring charges
As part of the restructuring efforts, Johnson & Johnson reduced its headcount by 3,000, or ~2.5% of the company's total workforce. The company expects to generate ~$1 billion in cost savings through the reduction in employee costs by 2018. Orthopedics, surgery, and cardiovascular businesses were impacted by this move, whereas the consumer medical devices, vision care, and diabetes segments were not affected by the restructuring initiative. Additionally, the company expects to record pre-tax restructuring charges of approximately $2 billion to $2.4 billion. The cost savings will provide more funds to the company to make investments in innovative products and focus on high growth areas in the segment.
The Vanguard Dividend Appreciation ETF (VIG) is one of the major ETFs that investors can invest in for diversified exposure to Johnson & Johnson. VIG tracks the NASDAQ US Dividend Achievers Select Index, which consists of securities with at least ten consecutive years of increasing dividend payments. JNJ accounts for ~4.4% of VIG's total holdings.