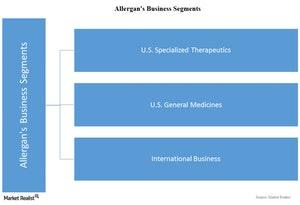 Behind Allergan's Business Segments and Revenues
Allergan's business segments
Allergan's (AGN) business has undergone several changes over the past few years due to acquisitions and divestitures of various products and businesses and is now classified into the following business segments:
US Specialized Therapeutics
US General Medicines
International Business
Article continues below advertisement
US Specialized Therapeutics
The US Specialized Therapeutics business includes products from therapeutic areas including eyecare, medical aesthetics, medical dermatology, neuroscience, and urology.
The revenues for US Specialized Therapeutics were $1.48 billion during 1Q17, which represented 14.1% growth over its $1.30 billion in 1Q16. The growth was driven by strong performance of Kybella, the strong uptake of eyecare products including Ozurdex and Restasis, dermatology products, and the acquisition of LifeCell.
US General Medicines
Allergan's US General Medicines business includes products from therapeutic areas such as central nervous system, gastroenterology, women's health, anti-infectives, and established brands products.
The US General Medicine segment reported revenues of $1.35 billion for 1Q17, which was a 7.4% decline from $1.45 billion in 1Q16, due to lower sales of Namenda products.
International  
The International segment reported revenues of $737 million, which represented a 9.5% growth over its revenues of $673 million for 1Q16. This included an operational growth of 10.5%, partially offset by a 1% negative impact of foreign exchange.
To divest company-specific risks, investors can consider ETFs like the PowerShares Dynamic Pharmaceuticals (PJP), which has 4.6% of its total assets in Allergan. PJP also has 5.1% in Merck (MRK), 4.9% in Pfizer (PFE), and 3.7% in Biogen (BIIB).