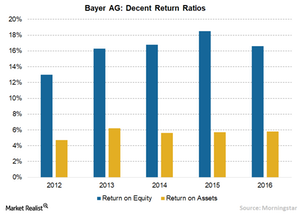 How Bayer Is Creating Value through Innovation
VanEck
Bayer AG (BAYN GR) holds an overall "narrow economic moat" rating from Morningstar: "The combination of the company's wide-moat pharmaceutical business, narrow-moat consumer health and crop science businesses, and no-moat material science business leads us to our narrow moat rating." Bayer's drug business supports a wide economic moat, given its diverse portfolio of patent-protected drugs and a growing number of biologic drugs that are sold through its strong global sales force. Consumers continue to support its marquee drugs, including Aspirin and Aleve, despite heavy generic competition. Bayer's 2014 acquisition of Merck's consumer products increased the scale of Bayer's consumer group. By contrast, however, Bayer's crop science business, including biosciences, face high barriers to entry that weaken this moat.
Article continues below advertisement
Market Realist
Bayer's strong economic moat in the pharmaceutical business
Bayer is a German life science company with core competencies in healthcare (XLV) (VHT) and agriculture. Most of its revenue depends on its sales of pharmaceutical drugs (PFE) (NVS), vitamins, and health products.
In 2016, the company owned ~51,000 valid patent applications and patents relating to ~5,000 protected inventions worldwide.
Innovation as a core competency
Bayer considers innovation to be its core competency, resulting in its consistently high expenditure on research and development (or R&D). In 2016, the company's R&D spending in the life science space rose 9.8% to 4.4 billion euros year-over-year, and the company is likely to spend even more in the years to come.
The company's investments in research and its targeted in-licensing are the basis of its long-term growth. Bayer estimates the combined peak annual sales potentials of six of its pharmaceutical products in the pipeline to be at least 6 billion euros, and it expects its crop protection and seed technology products to earn more than 5 billion euros leading up to 2020.
Article continues below advertisement
Healthy return ratios
During the last five years, the company has generated an ROE (return on equity) of 16.2%, much higher than the sector median ROE of 12.5%. Its ROA (return on assets) has been 5.6%, a bit lower than the sector median ROA of 6.3%.
Acquisition of Monsanto
Though Morningstar has assigned a narrow moat to Bayer's crop science businesses, Bayer's acquisition of Monsanto (MON) would be a game changer for the company.
The acquisition could further strengthen Bayer as a life science company and create substantial additional value in the long term through more innovation, stronger growth, and greater efficiency due to the complementary nature of Monsanto's business.