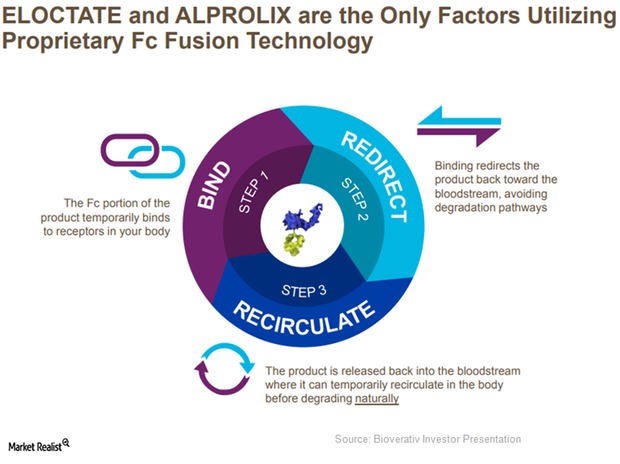 Alprolix and Eloctate Increasingly Used for Prophylaxis in 2017
Prophylaxis market opportunity
According to estimates by Bioverativ (BIVV), of the 151,000 identified hemophilia A patients, around 44,000 of them have a mild form of the disease, 27,000 have a moderate form of the disease, and the remaining 80,000 have a severe form of the disease. Of the 30,000 identified hemophilia B patients, 9,000 are estimated to have a mild form of the disease, 11,000 have a moderate form of the disease, and 10,000 have a severe form of the disease. Since demand from the target population for prophylaxis, which includes moderate and severe hemophilia patients, is rising rapidly, Bioverativ's Alprolix and Eloctate are expected to witness solid demand trends in 2017.
Bioverativ is thus expected to become a major rare disease player much like its peers Vertex Pharmaceuticals (VRTX), Alexion Pharmaceuticals (ALXN), and United Therapeutics (UTHR).
The above diagram shows how Alprolix and Eloctate function in the body.
Article continues below advertisement
Inhibitor opportunity
Bioverativ is also focused on developing therapies for hemophilia A patients with inhibitory antibodies to activity of factor VIII, which makes replacement therapy less effective for these patients. The company plans to study Eloctate in Phase 4 studies for this inhibitor patient population. It's been estimated that around 30.0% of hemophilia A patients may develop inhibitors over time and will thus become a target segment for Eloctate's proposed label expansion.
In 2016, it's estimated that bypassing agents used for developing immune tolerance induction in inhibitor hemophilia A patients was worth $2.1 billion. Factor replacement therapy such as Eloctate may prove more effective in these patients since its mechanism focuses on eradicating inhibitors rather than bypassing them.
If Eloctate proves its efficacy in the inhibitor hemophilia A population, it may have a favorable impact on Bioverativ stock as well as the Vanguard Small-Cap ETF (VB). Bioverativ makes up about 0.21% of VB's total portfolio holdings.
In the next part, we'll look in detail at growth trends for Eloctate in the hemophilia A space.