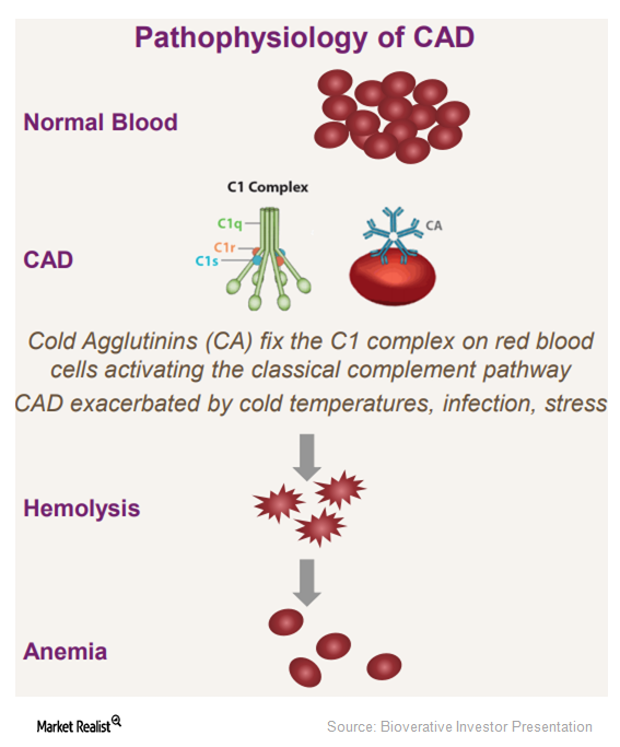 Bioverativ–True North Therapeutics: Stronger Research Pipeline
Acquisition of True North Therapeutics
The acquisition of True North Therapeutics has paved the way for Bioverativ's (BIVV) entry into cold agglutinin disease (or CAD), a condition characterized by severe hemolytic anemia. True North Therapeutics has added TNT009, a first-in-class and selective inhibitor of the C1 complex and the only one currently under development for CAD. Since TNT009 is capable of selectively targeting C1, it may prove to be an effective, safe treatment option for CAD patients. The investigational drug has already secured breakthrough therapy designation from the FDA (U.S. Food & Drug Administration), which is expected to expedite the regulatory approval process.
Similar to peers Alexion Pharmaceuticals (ALXN), United Therapeutics (UTHR), and Vertex Pharmaceuticals (VRTX), Bioverativ will also become a major rare disease player in the next few years.
The above diagram shows the manner in which CAD results in anemia in patients.
Article continues below advertisement
Market opportunity
According to Bioverativ, approximately 65.0% of CAD patients have to undergo about 11 blood transfusions annually. That results in iron overload in various organs of the body, subsequently leading to fatal events such as stroke, heart attack, and pulmonary embolism. Patients generally demonstrate high levels of fatigue due to anemia, which in turn affects their quality of life.
While this rare disease only affects around 16 per million people and has a prevalence of around 5,000 in the United States, the burden of the disease is nevertheless high due to a patient's excessive healthcare utilization. Bioverativ has calculated that CAD patients have an average of 26 outpatient visits annually due to this condition, while the average length of stay when admitted to a hospital is around four days. These statistics highlight the scope of the growth opportunity available for Bioverativ in the CAD segment.
Since Bioverativ's commercial footprint coincides with the target audience for CAD therapies and marketing is mainly focused on hematologists, Bioverativ expects to benefit extensively from this acquisition. If these projections prove correct, it may have a favorable impact on Bioverativ stock as well as the iShares S&P Mid-Cap 400 Growth (IJK). Bioverativ makes up about 0.78% of IJK's total portfolio holdings.
In the next part of this series, we'll look at revenue projections for Bioverativ in detail.