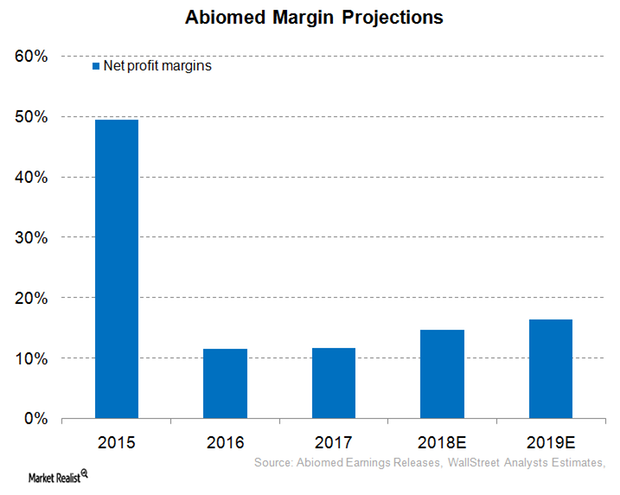 Inside Abiomed's Profit Margin Expectations for Fiscal 2018
Healthy profit margins
For fiscal 2018 (ended March 31, 2018), Abiomed (ABMD) has projected that its operating margins will be in the range of 22%–24%. The company considers this to be steady progress toward its long-term target of achieving margins greater than 30%.
Abiomed is also able to leverage operating efficiencies through its investments in staff training and technology upgrades, as the entire suite of Impella devices is based on the single AIC (automated Impella console) platform.
Article continues below advertisement
In fiscal 2018, the company plans to invest in enhancing its existing product lines by adding sensing technologies and entering new med-tech markets such as Japan. The company aims to expand the label of its Impella CP device in patients with STEMI (ST segment elevation myocardial infarction) prior to PCI (primary percutaneous coronary intervention) procedures in fiscal 2018.
Abiomed also plans to release new products including ECP 5.5, Impella 55, and Impella BTR in fiscal 2018.
Margin projections
Wall Street analysts have projected that Abiomed's net profit margins for fiscal 2018 will be around 14.7%, which would be 300 basis points higher on a YoY (year-over-year) basis.
Peers Abbott Laboratories (ABT), Baxter International (BAX), and Hologic (HOLX) are expected to report net profit margins of close to 11.8%, 11.0%, and 16.1%, respectively, in calendar 2017.
Growth opportunity
Around 700,000 New York Heart Association (NYHA) class-3 and class-4 patients, which includes coronary artery disease patients as well as those with poor heart ejection fractions, are eligible for the PCI procedure.
According to the Heart and Stroke Foundation, "Percutaneous Coronary Intervention…is a non-surgical procedure that uses a catheter (a thin flexible tube) to place a small structure called a stent to open up blood vessels in the heart that have been narrowed by plaque buildup, a condition known as atherosclerosis."
Abiomed aims to increase the utilization of Impella by interventional cardiologists during these PCI procedures in heart hospitals across various communities. Notably, Abiomed makes up about 0.67% of IJK's total portfolio holdings.