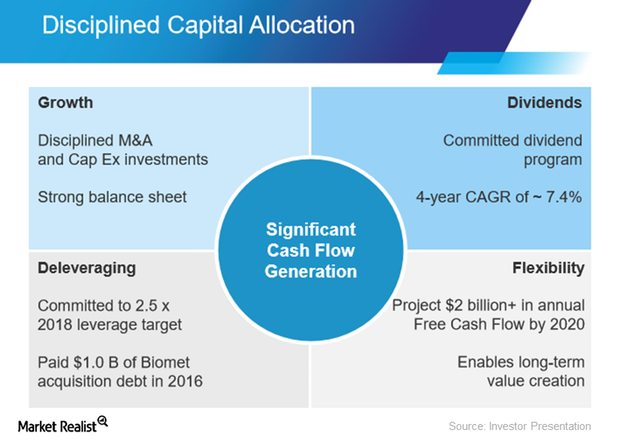 Zimmer Biomet's Capital Allocation Strategy to Create Value
Share buybacks
Zimmer Biomet Holdings (ZBH) has consistently provided value to shareholders through efficient capital allocations to dividend payments, mergers, and acquisitions (or M&As), and share repurchases.
For more than a decade, Zimmer Biomet has been creating shareholder value through consistent share buybacks. The company suspended its share repurchase program in early 2014 after Zimmer Holdings announced the acquisition of Biomet. But as soon as the combined company was back on track after the integration, the newly formed Zimmer Biomet Holdings started deploying capital to share repurchases. However, the company didn't make any share buybacks in 1Q17. In February 2016, Zimmer Biomet authorized up to $1.0 billion of the company's common stock for share repurchases, all of which remains authorized to date.
Article continues below advertisement
Article continues below advertisement
Dividends
Zimmer Biomet started distributing dividends to its shareholders in 2012. In 1Q17, the company paid $48.1 million in dividends. On May 30, 2017, it announced a quarterly dividend of $0.24 per share to be paid on July 28, 2017, to stockholders of record as of the close of business on June 23, 2017.
Zimmer Biomet's peers Stryker (SYK) and Medtronic (MDT) both announced quarterly dividends of $0.425 per share in May 2017 and $0.43 in March 2017, respectively. Johnson & Johnson (JNJ) announced quarterly dividends of $0.84 per share in April 2017. You can consider the iShares Russell Mid-Cap ETF (IWR), which has ~0.34% of its holdings in Zimmer Biomet.
Debt repayment
The acquisition of Biomet in June 2015 was partially funded by a debt of ~$10.7 billion. After the acquisition, Zimmer Biomet focused on consistent debt repayment. In 1Q17, the company repaid approximately $250.0 million of its debt. Total debt on the company's balance sheet at the end of 1Q17 was $10.6 billion. Zimmer Biomet is committed to a 2.5x leverage target by 2018.
Mergers and acquisitions
Zimmer Biomet has been growing through a number of strategic acquisitions over the years. Since the merger of Zimmer Holdings and Biomet, the company has invested $1.5 billion in eight M&A deals.
In the next part, we'll take a look at ZBH's updated 2017 guidance.