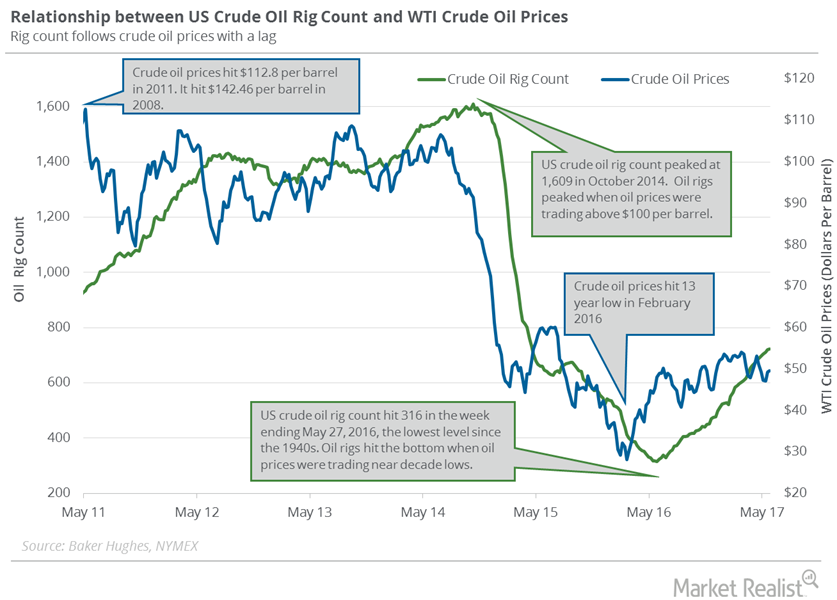 Will President Trump Boost the US Crude Oil Rig Count?
US crude oil rig count  
Baker Hughes (BHI) released its weekly US crude oil rig count report on June 2, 2017. It reported that US crude oil rig counts rose by 11 to 733 between May 26, 2017, and June 2, 2017. Rigs had risen for 20 straight weeks. US crude oil rigs are at the highest level since April 17, 2015.
US crude oil rig counts roe 1.5% week-over-week. Rigs have risen 125.5% from the same period in 2016 because crude oil (ERX) (FXN) (FENY) prices recovered in 2016.
Article continues below advertisement
Peaks and lows 
The US crude oil rig count peaked at 1,609 in October 2014. On the other hand, it hit 316 in the week ending May 27, 2016—the lowest level since the 1940s.
Donald Trump and US oil and gas production 
President Trump withdrew from the Paris climate accord on June 1, 2017. The withdrawal suggests that President Trump plans to increase US oil and gas drilling activity, which would increase US crude oil production and cause colossal damage for oil prices. For more, read Part 1 of this series.
The EIA (U.S. Energy Information Administration) will release its monthly Drilling Productivity Report on June 12, 2017. In its previous report, the EIA estimated that US crude oil production would rise in the seven shale regions by 122,000 bpd (barrels per day) to 5,401,000 bpd in June 2017—compared to May 2017.
Read What Could Offset OPEC's Crude Oil Production Cut Deal? and Crude Oil: Is It the Beginning of a Bear Market? for more on crude oil prices.