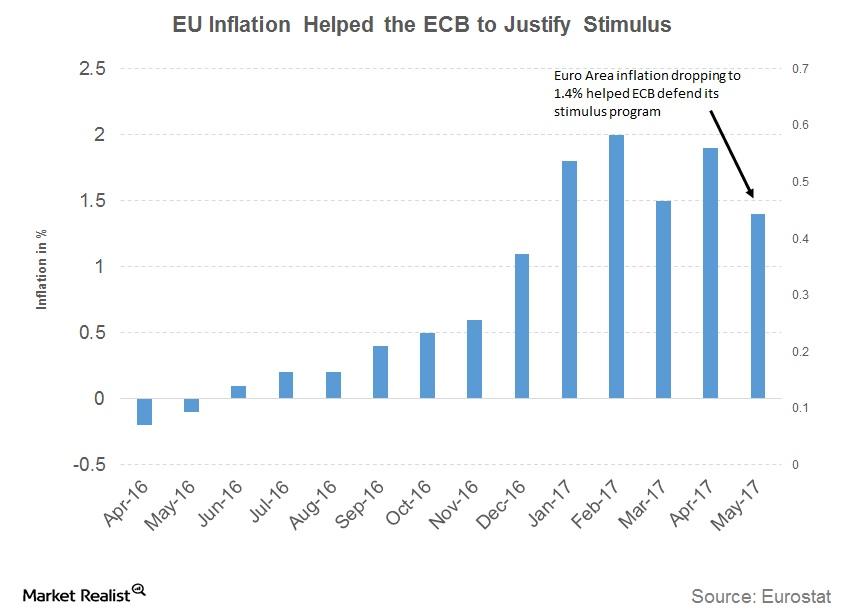 Why the ECB Closed the Door on Further Rate Cuts
The ECB leaves interest rates unchanged
The ECB (European Central Bank) left interest rates unchanged at 0% in the rate-setting meeting that was held on Thursday, June 8, which was being referred to as "Super Thursday" leading up to the event. But the ECB continued with its cautious note and displayed no super urgency to exit its stimulus program.
ECB Chairman Mario Draghi has acknowledged that the risks from lower inflation have receded and have removed the easing bias on interest rates. This means that there will likely be no further rate cuts from the ECB.
Article continues below advertisement
QE set to continue at its current pace
Draghi has left his options open about further stimulus from the ECB and confirmed that the current QE (quantitative easing) program, wherein the central bank purchases qualifying securities worth 60 billion euros per month, is set to continue until the end of this year.
Markets had been speculating about an announcement wherein the ECB would signal a tapering of its QE program, but there seemed to be no suggestion of such an action from the ECB. Overall, the ECB event turned out to be less than eventful on Super Thursday.
Market reactions
The market reaction was muted after the ECB meeting. The Euro Stoxx 500 (FEZ) gained 0.4%, while the German DAX (EWZ) gained 0.32%. The French CAC 40, and the FTSE 100 (EWU) closed in the red. European bond yields trended lower, with the German ten-year bund (GGOV) yield dropping to 0.25% from an intraday high of 0.29%.
The euro (FXE) was not impacted by the event and remained close to 1.12 against the US dollar. European markets (VGK) weren't affected by the election results in the UK either and opened higher on June 9, as risk appetites returned to global markets.
In the next and final part of this series, we'll take a closer look at how UK markets have reacted to the surprise results of its snap elections on June 8.