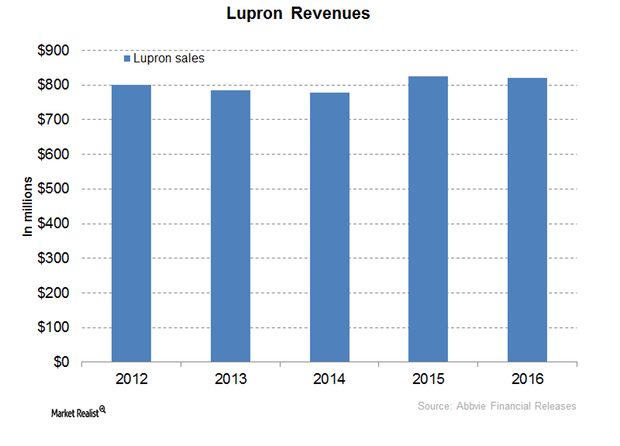 Why Lupron Could Continue to Generate Steady Revenue
Lupron's revenue trend
In 2016, AbbVie's (ABBV) Lupron generated revenue of $821 million, a slight fall of 0.6% year-over-year (or YoY). In 1Q17, Lupron reported revenue of ~$194 million, a rise of ~1.7% YoY.
The above graph represents Lupron's revenue trajectory from 2012 to 2016.
Article continues below advertisement
About Lupron
Lupron is administered as a leuprolide acetate depot suspension for the palliative treatment of patients with advanced prostate cancer. The drug is administered before fibroid surgery along with iron therapy for the management of anemia due to vaginal bleeding. Lupron Depot is also used to treat endometriosis in women and for children suffering from central precocious puberty.
AbbVie anticipates that Lupron's revenue will remain flat YoY. AbbVie markets the drug in the United States and Canada, while Takeda Pharmaceuticals (TKPYY) markets the drug in Asia. AbbVie and Takeda Pharmaceuticals jointly sell the drug in Europe. Lupron's success could fuel the share price of the SPDR S&P Dividend ETF (SDY). AbbVie makes up ~1.7% of SDY's portfolio holdings.
Lupron's competitor
Lupron faces tough competition from Eligard. Eligard has the same composition as Lupron, but Eligard is a subcutaneous injection, while Lupron is administered as an intramuscular injection.
Eligard has a presence in over 67 countries. TOLMAR Pharmaceuticals markets Eligard in the United States, Australia, and New Zealand, while Astellas Pharma (ALPMY) markets it in Europe, Asia, the Middle East, and North Africa. Sanofi (SNY) holds the marketing rights for Eligard in Canada, Key Oncology sells it in South Africa, Tecnofarma sells it in Latin America, and HanAll Biopharma Co. sells it in South Korea.
In the next article, we'll discuss AbbVie's Neuroscience portfolio.