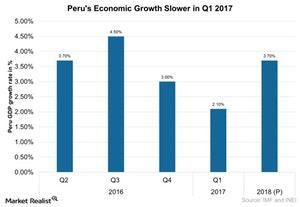 Why Global Mining Leader Peru Is Seeing Slower Growth in 2017
Economic growth in Peru
Peru experienced lower growth in 1Q17 compared to the previous quarter. Its economic activity in 1Q17 seems to be heavily impacted by the floods in March 2017. The construction sector posted the largest decline due to the immediate impact of the floods in 1Q17, resulting in widespread loss of life and property.
The chart below illustrates Peru's economic growth over the last year.
Article continues below advertisement
Article continues below advertisement
Slower growth in 1Q17
Peru's economy grew 2.1% year-over-year in 1Q17, lower than its 3% expansion in 4Q16. The floods in March 2017 affected its economic activity in 1Q17, resulting in the country's lowest growth rate in the last two years.
The floods, which occurred due to the ENSO (or El Niño Southern Oscillation) weather pattern, caused tremendous damage, particularly in areas of Lima and cities in Northwestern Peru.
According to Peru's Ministry of Economy and Finance, the El Niño–related infrastructure damages were close to $4 billion. The storms seemed to have wiped out nearly 0.5% of the country's GDP growth in 1Q17, and its effects are expected to impact its economic activity throughout the year.
Over the last decade, Peru (EPU) has experienced an average growth rate of ~5%–6%, with a major improvement in its macroeconomic factors and social indicators. The commodity (USO) (XME) boom with respect to structural reforms helped improve the country's economic activity over the last several years.
Recently, the Peruvian economy has faced two major issues—the Odebrecht scandal and the floods.
Sector performance
The construction sector has seen the greatest impact of the floods, resulting in an ~5.3% drop in its activity for 1Q17. However, the Peruvian economy posted growth in 1Q17 in sectors such as trade, transportation, services to companies, manufacturing, mining, electricity, gas, water, and fisheries.
The flood damage requires heavy investment on the part of Peru's government, which is expected to support the country's economic activity in 2017. Peru's Ministry of Economy and Finance has planned a fiscal package of 1.3% of GDP for infrastructure and public investment in 2017.
The iShares MSCI All Peru Capped ETF (EPU) continued to struggle in its effort to outperform Latin American (ILF) economies like Brazil (EWZ) and Mexico (EWW) in 2017. EPU gained ~3% in May 2017.
In the next article, we'll look at Chile's economic performance.