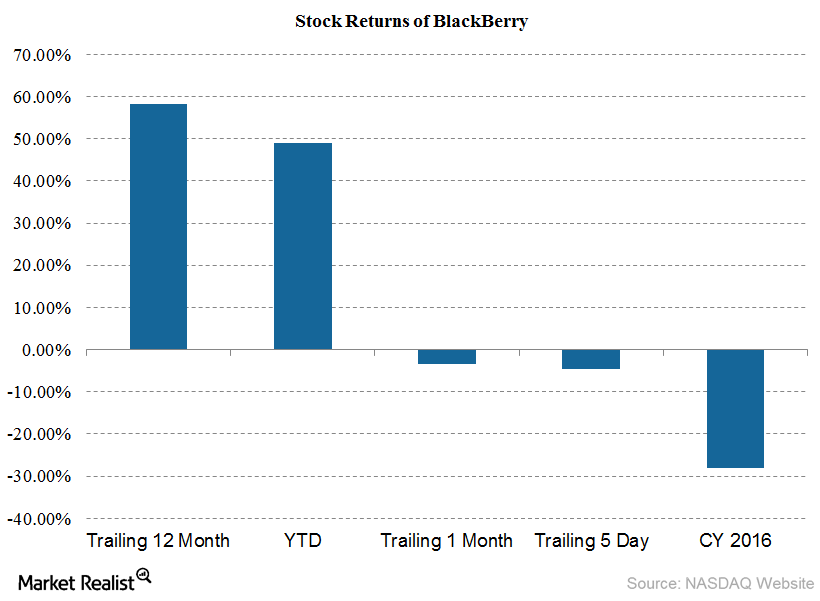 Where Is BlackBerry Trading Compared to Moving Averages in June?
Shareholder returns
Canada's (EWC) BlackBerry (BBRY) generated returns of -3.3% in the trailing-one-month period and 58% in the trailing-12-month period. The stock has risen 49% since the start of 2017 after falling 28% in 2016 and 14% in 2015. In the last five trading days, BlackBerry's stock has fallen 4.5%.
IBM (IBM), Cisco (CSCO), and Apple (AAPL) generated returns of 6%, 16%, and 56%, respectively, in the last 12 months.
Article continues below advertisement
Article continues below advertisement
Moving averages
On June 26, 2017, BlackBerry closed the trading day at $10.26. Based on that figure, here's how the stock is performing compared to its moving averages:
17.9% above its 100-day moving average of $8.70
1.3% above its 50-day moving average of $10.13
4.8% below its 20-day moving average of $10.78
RSI and MACD
BlackBerry's 14-day moving average convergence divergence (or MACD) is -0.33. A negative MACD figure indicates a downward trading trend. MACD is the difference between a company's short-term and long-term moving averages.
BlackBerry's 14-day relative strength index (or RSI) is 47, which indicates that the stock is slightly overbought. Generally, an RSI figure above 70 indicates that a stock has been overbought, whereas an RSI figure below 30 suggests that a stock has been oversold.
Analyst recommendations
Five analysts cover BlackBerry stock. While one recommended a "buy," two recommended a "sell," and two recommended a "hold." Analysts' consensus average target price for the stock is $10, while the median target estimate is $9.75. Blackberry is trading at a premium of 5% to its median target price.