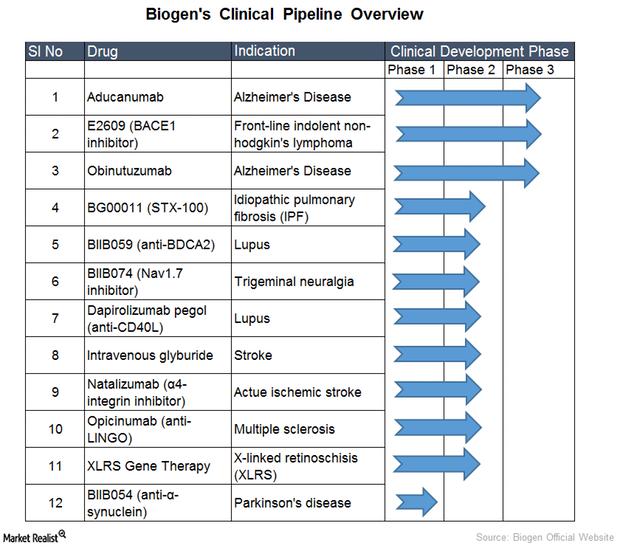 What's in Biogen's Clinical Pipeline?
Biogen's pipeline trends
In April 2017, Bristol-Myers Squibb (BMY) announced an agreement to license BMS-986168, an anti-tau agent for the treatment of Alzheimer's disease and progressive supranuclear palsy (or PSP), to Biogen (BIIB). The agreement is expected to close in 2Q17. Biogen believes that this agreement will add a promising Alzheimer's therapy to the company's research pipeline with a superior mechanism of action that requires significantly less time to market than other investigational Alzheimer's therapies.
Article continues below advertisement
Tau is a protein that helps in the formation of microtubules. It also enhances their stability. The mutation in the microtubule-associated protein tau gene leads to taupathy. In normal conditions, tau proteins are soluble, but in pathological conditions, the protein accumulates to become hyperphosphorylated, leading to the formation of neurofibrillary tangles within the neurons. This leads to progress of neurodegenerative diseases, Alzheimer's disease, and PSP. The success of BMS-986168 in clinical trials may help Biogen commercialize a novel drug in the market. Biogen is planning to initiate Phase 2 clinical trials with BMS-986168.
Currently, Biogen is conducting 13 clinical studies in early phases (phase 1 and 2) and expects promising results from those trials. Biogen's peers in the neurological disease drugs market include Novartis (NVS), Sanofi (SNY), Teva Pharmaceuticals (TEVA), and many others.
The above list highlights Biogen's major investigative drugs in the clinical pipeline. To know more about Biogen's investigational drugs for Alzheimer's disease, read Biogen Pursuing Investigational Candidates in Alzheimer's Disease.
ENHANCE outcome
In May 2017, the European Commission approved Fampyra's standard marketing authorization. The European Commission previously granted conditional marketing authorization to Fampyra, a drug for the treatment of relapsing/progressing multiple sclerosis (or MS). The ENHANCE clinical trial was conducted following conditional marketing approval. The ENHANCE phase 3 clinical trial demonstrated significant clinical benefits and the safety of Fampyra in patients with relapsing or progressive forms of MS. Walking disability is one of the primary issues in MS. Fampyra demonstrated significant improvement in walking in MS patients compared to the placebo. The 12-item MS walking scale was the primary endpoint of the study and 43.2% receiving Fampyra showed improvement in walking compared to the placebo. This regulatory approval may boost the drug sales in Europe.
The success of Biogen's investigational drugs in clinical trials will help the company commercialize the drugs in the marketplace. The growth in Biogen's product portfolio and simultaneous growth in product sales may boost the share prices of the PowerShares QQQ (QQQ) ETF. Biogen holds about ~0.88% of QQQ's total portfolio holdings.