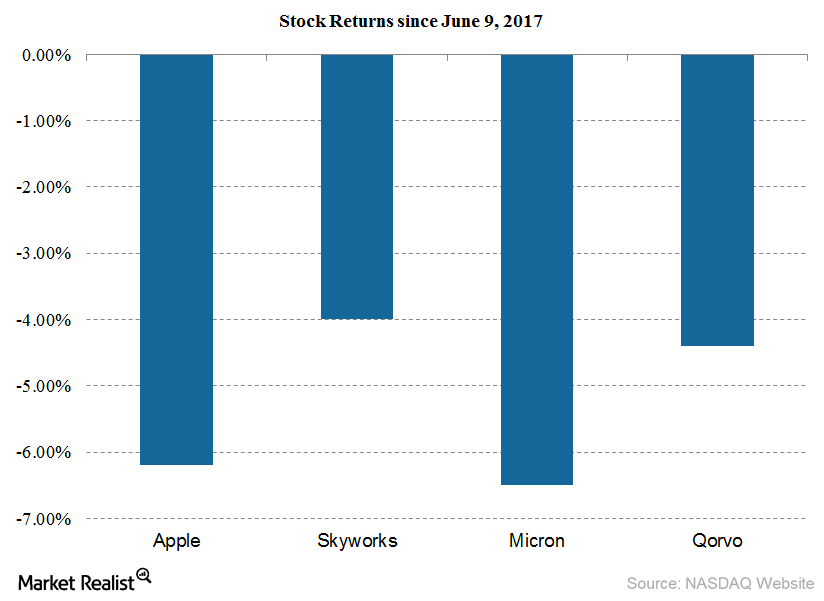 What's Affected Apple Stock Recently?
Apple stock has fallen 6.2% since June 9
Apple (AAPL) stock has fallen 6.2% over the last two days. Though the overall technology sector has experienced a sell-off, there have been concerns that the new iPhones would use modem chips, which will reduce download speeds compared to other smartphones using Android's (GOOG) OS.
Apple is expected to launch the iPhone 8 in September 2017, marking the ten-year anniversary since the launch of the first iPhone. According to Bloomberg, Intel's (INTC) gigabit (or GB) chips won't be available in time for the launch of the iPhone 8. Apple is thus using Qualcomm's (QCOM) modem chips across devices to maintain user consistency. Intel came on board as an Apple supplier in 2016 in order to maintain price competition.
Some smartphones such as Samsung's (SSNLF) Galaxy S8 and HTC's U11 support gigabit downloads. However, ideally, these downloads would be supported by cellular connections that have LTE Advanced.
Article continues below advertisement
Article continues below advertisement
Apple supplier stocks also fall