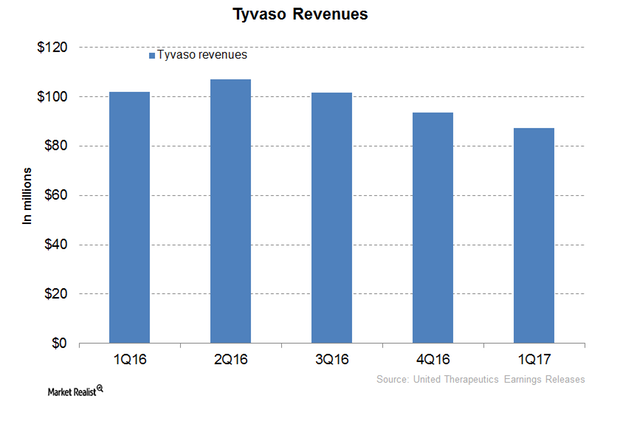 What Can We Expect from United Therapeutics' Tyvaso in 2017?
Tyvaso revenue trends
In 2016, United Therapeutics' (UTHR) Tyvaso reported revenues of ~$404.0 million, which reflected an ~15.0% decline year-over-year (or YoY). In 2016, Tyvaso contributed to ~25.0% of United Therapeutics' total revenues.
In 1Q17, Tyvaso generated revenues of around $87.4 million, which is an ~14.0% decline YoY and an ~7.0% decline quarter-over-quarter. The chart below represents the revenue trajectory of Tyvaso from 1Q16 to 1Q17. To learn more about Tyvaso, please read United Therapeutics: Why Tyvaso Is Still a Key Growth Driver.
The drug faces stiff competition from Actelion Pharmaceuticals' Ventavis. The company expects the drug's sales to show gradual growth with the slowing decline of patients shifting from UTHR's drugs after the launch of Uptravi in December 2015.
United Therapeutics' peers in the pulmonary arterial hypertension (or PAH) drug market include Novartis (NVS), GlaxoSmithKline (GSK), and Teva Pharmaceuticals (TEVA).
Article continues below advertisement
About Tyvaso
Tyvaso (treprostinil) is an inhalational prostacyclin analog indicated for pulmonary arterial hypertension (or PAH). The drug must be administered four times daily. Tyvaso is administered by the Tyvaso inhalation system. Tyvaso received FDA approval in 2009 for the treatment of PAH.
United Therapeutics is conducting further clinical trials with Tyvaso for the label expansion and evaluation of safety and efficacy in combination treatment. Currently, the company is carrying out the BEAT phase 3 clinical trial for the evaluation of the combination treatment of Tyvaso and esuberaprost in patients with PAH.
The company's brand name for the combination is Tysuberprost. United Therapeutics expected to commercialize the product by 2019.
United Therapeutics is conducting INCREASE phase 3 trials for the label expansion of Tyvaso for the treatment of idiopathic pulmonary fibrosis (or IPF). The company expects to commercialize the drug for IPF by 2020. Successful clinical trials would help commercialize the drug for a new indication.
The growth in United Therapeutics' product sales may boost the SPDR S&P Midcap 400 ETF (MDY). United Therapeutics comprises ~0.36% of MDY's total portfolio holdings.