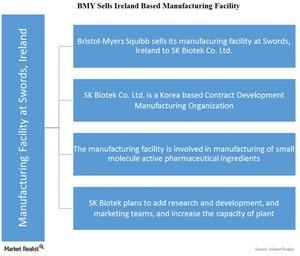 SK Biotek to Acquire Manufacturing Facility in Swords, Ireland
<p>In its press release on June 16, 2017, Bristol-Myers Squibb (BMY) announced that it entered into a definitive purchase agreement with SK Biotek.</p>
The facility
In its press release on June 16, 2017, Bristol-Myers Squibb (BMY) announced that it entered into a definitive purchase agreement with SK Biotek, a Korea-based CDMO (contract development manufacturing organization), for the acquisition of Bristol-Myers Squibb's small molecule active pharmaceutical ingredient manufacturing facility in Swords, Ireland.
The deal is expected to be completed by 4Q17. The plant will be operated as a standalone CDMO. However, SK Biotek intends to increase the plant's capacity and add a research and development and marketing team.
Article continues below advertisement
Article continues below advertisement
Details about the manufacturing facility
Bristol-Myers Squibb's manufacturing facility in Swords, Ireland, is a manufacturing unit for APIs (active pharmaceutical ingredients) for many medicines from Bristol-Myers Squibb's portfolio. The plant also manufactures APIs for Eliquis, a cardiovascular drug co-developed by Bristol-Myers Squibb and Pfizer (PFE).
Benefits for SK Biotek
SK Biotek is part of SK Group—one of the largest conglomerates in South Korea. SK Group already has its presence in energy, chemicals, IT, semiconductors, and marketing and services. The group has been present in pharmaceuticals for more than 20 years.
The acquisition of the plant is an important step towards SK Biotek marking its presence in the pharmaceuticals industry and becoming a leading CDMO.
The acquisition also provides SK Biotek with an opportunity to enhance its technology and manufacturing capacities. It will be able to have partnerships with new and existing customers.
There's a scope of increasing manufacturing capacities, bringing R&D as well as the marketing team to the manufacturing facility, and making it a standalone CDMO.
To divest company-specific risks, investors can consider ETFs like the VanEck Vectors Pharmaceuticals ETF (PPH), which holds 4.4% of its total assets in Bristol-Myers Squibb. PPH also holds 5.7% in AstraZeneca (AZN), 5.6% in Novo Nordisk (NVO), and 4.8% in Pfizer (PFE).