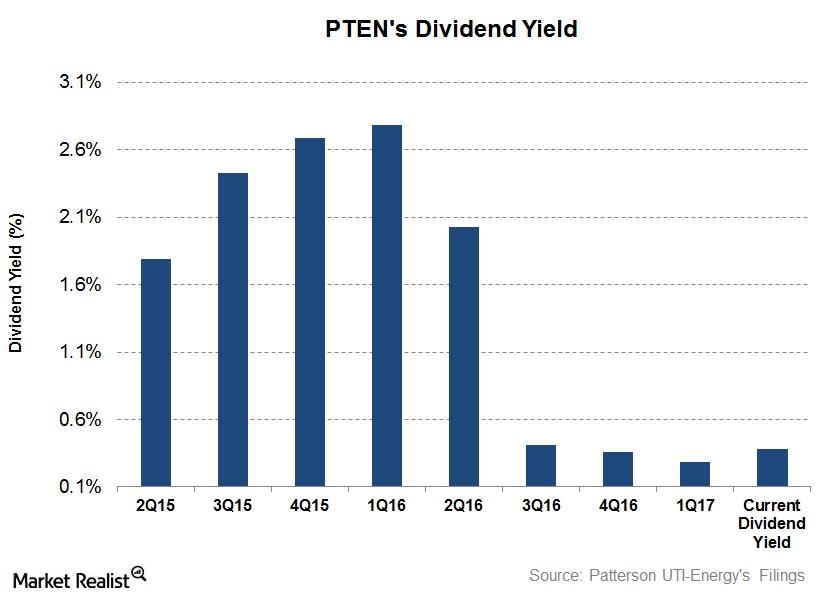 Patterson-UTI Energy's Dividend Yield on June 2
Will Patterson-UTI Energy lower its dividends?
On April 27, 2017, Patterson-UTI Energy (PTEN) declared a dividend per share (or DPS) of $0.02 to be paid in June 2017. PTEN's larger market cap industry peer Schlumberger (SLB), which last declared a dividend in April 2017, paid DPS of $0.50. You can read more on Schlumberger in Market Realist's What Could Drive Schlumberger's Returns in 2H17 and Beyond?
In June 2016, PTEN management slashed its quarterly DPS 80.0%, led by a steep fall in earnings. PTEN aimed to improve its liquidity through dividend reduction.
Article continues below advertisement
Patterson-UTI Energy's dividend yield
PTEN's dividend yield, expressed as dividend per share relative to the stock price, crashed in 3Q16. From September 30, 2016, to March 31, 2017, PTEN stock rose 8.0%, while its DPS remained unchanged. In effect, PTEN's dividend yield fell to 0.29% on March 31, 2017. Since then, PTEN's dividend yield has risen again to 0.38% as of June 2, 2017. Helmerich & Payne's (HP) dividend yield on March 31, 2017, was 3.9%. PTEN makes up 0.22% of the SPDR S&P MidCap 400 ETF (MDY). MDY rose ~16.0% in the past year, which is nearly the same as the rise in PTEN stock during that period.
You can find out more about the oilfield services industry in Market Realist's series The Oilfield Equipment and Services Industry: A Primer.