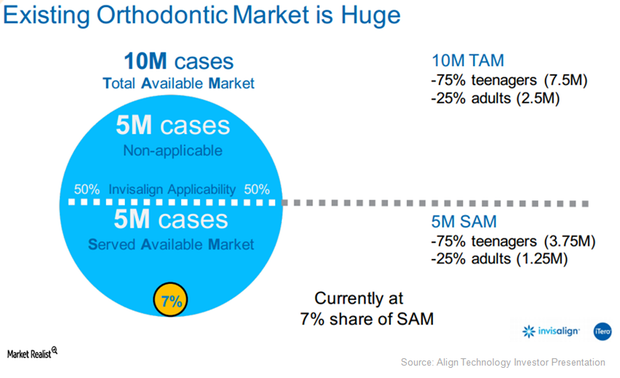 Why Align Technology's Orthodontics Is a Solid Growth Opportunity in 2017
ALGN's orthodontics segment
Align Technology (ALGN) is a medical device provider focused on malocclusion or teeth misalignment condition. Currently, around 60%–75% of the total world population is affected by this condition.
While ten million people in developed markets seek treatment from orthodontists every year, half of them suffer from mild to moderate malocclusion, which is the target market for Align Technology's Invisalign system. Around 100 million people in the world prefer to straighten their teeth at home using clear aligner technology. This doctor-directed home market is also a major growth opportunity for Align Technology.
Article continues below advertisement
Article continues below advertisement
The above diagram shows that Align Technology has managed to capture around 7% of the served available market opportunity. This highlights that there's significant scope for additional revenue growth. Align Technology competes with other dental device providers like Dentsply Sirona (XRAY), Danaher (DHR), and 3M Company (MMM).
Ease of use
There is an increasing tendency in the US to opt for clear aligner treatment over traditional malocclusion therapy, which involves metal arch wires, brackets, and other accessories. This is because the traditional therapy requires 12–24 months to complete, in addition to the high level of involvement from dentists and general practitioners.
On the other hand, the Invisalign system is a highly automated system using patient dental data and advanced software to help dentists treat malocclusion using customized, plastic, and removable tooth aligners.
Clear Aligner
In 2016, the Clear Aligner segment reported revenues of close to $958.3 million, which made up 89% of the company's total revenues. The Clear Aligner segment's revenues are further categorized into a comprehensive product and non-comprehensive product revenues.
Comprehensive products involve Invisalign Full, Invisalign Teen, and Invisalign Assist product lines. While Invisalign Full consists of the set of aligners required by dentists, Invisalign Teen includes additional features suitable for teenage patients.
Notably, the Core S&P Mid-Cap ETF (IJH) has about 0.67% of its total portfolio holdings in Align Technology.
In the next part of the series, we'll discuss the growth prospects for Align Technology in the North American market.