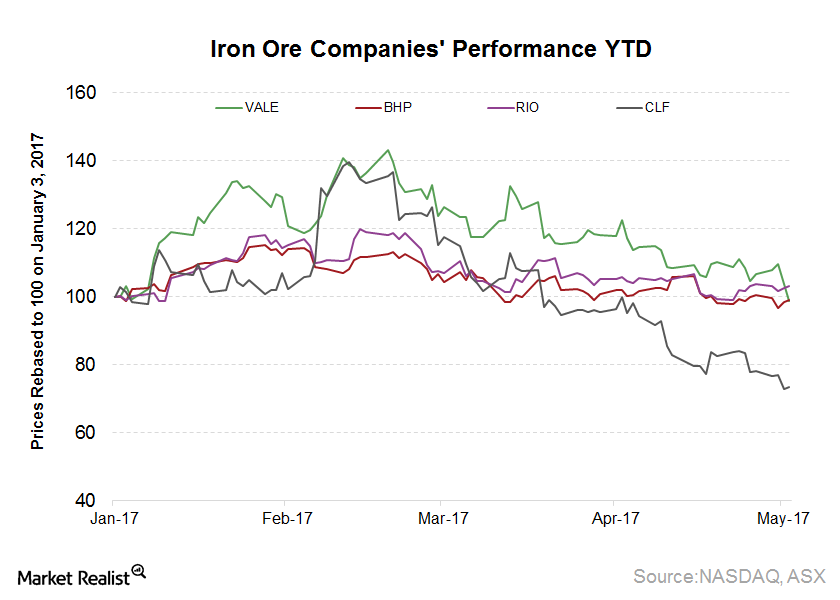 These Factors Led to Weakness in Vale Stock after 1Q17
Vale's outperformance in 1Q17
In 1Q17, Vale (VALE) significantly outperformed its major peers with a rise of ~25%. The returns of its close peers (PICK) BHP Billiton (BHP) and Rio Tinto (RIO) were muted in comparison. Along with a solid operational performance, the announcement from the company regarding the consolidation of its shares led to the share price rally. The commencement of production at its biggest project, S11D, was another reason for the investors' enthusiasm.
Article continues below advertisement
Article continues below advertisement
Vale's shares under pressure
This enthusiasm, however, waned as the company released its 1Q17 results, which were weaker than analysts' expectations and as compared to its performance in the same quarter the previous year. Another factor that hurt the stock was the news regarding the involvement of Brazil's President, Michel Temer, in a corruption scandal, which led to political turmoil in the country. Uncertainty is not good for equity stocks. Also, the president's business-friendly policies had boosted Brazilian stocks.
These factors have led the company's stock to lose 16.3% quarter-to-date until June 14, 2017. As of this date, the company has gained only 4.3% year-to-date (or YTD). BHP and RIO have gained -2% and 3.7% in comparison, respectively. Cliffs Natural Resources (CLF) had the worst performance of all at -30% YTD. Its drivers, however, are slightly different from those driving the other three miners.
In this series
In this series, we'll discuss how Vale's management is dealing with the current volatile commodity price environment. We'll see how different segments of the company are doing and what the management is doing to reduce its debt. We'll also discuss what Wall Street analysts are thinking about the company's stock.
We'll wrap up by comparing Vale's valuation with those of peers. In the next part, we'll look at Vale's iron ore division.