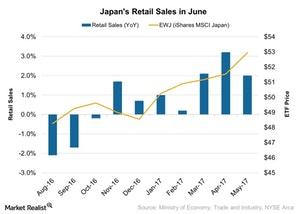 What Japan's Falling Retail Sales Indicate for the Economy
Japan's retail sales
According to the data provided by Japan's Ministry of Economy, Trade and Industry, Japan's retail sales rose to 2% in May 2017 on a yearly basis, compared to 3.2% in April. The country's retail sales didn't meet the market's expectation of a 2.6% rise.
Japan's retail sales showed a strong improvement in April, one of the strongest in the last two years. In 2015 and 2016, the Japanese economy (EWJ) (DXJ) showed a huge fall in performance. Its retail sales, consumer spending, government spending, and inflation showed weak performances. The deflationary environment in the country increased investors' concerns.
Article continues below advertisement
Article continues below advertisement
May's retail sales were weak in Japan mainly due to the huge fall in sales in supermarkets and department stores. These sales fell nearly 1.6% in May, compared to 0.2% in April. Sales in the food and beverages and machinery and equipment sections rose more slowly in May. However, sales in the motor vehicles section rose 7% in the month, compared to 6.3% in April.
Impact on the economy
Retail sales are important to Japan's economic growth. The weaker improvement in retail sales is increasing concerns for Japan's economy. In the last four months, we've seen that Japan's major economic indicators have shown recovery, increasing investors' confidence.
Japan's economy depends on its exports. To provide strong economic growth, Japan's (EWJ) (DXJ) overall domestic demand and overseas (VT) (ACWI) (VTI) demand need to improve.
In the next part of this series, we'll analyze the performance of the Eurozone's consumer confidence in June 2017.