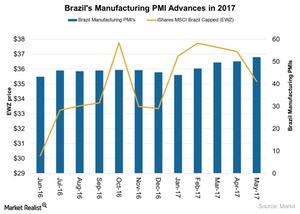 Is Manufacturing Activity in Brazil on an Uptrend in 2017?
By Mary Sadler

Updated
Brazil's political troubles
Brazil (EWZ) continues to grapple with high unemployment and political uncertainty in 2017. The political climate in Brazil remains unclear as President Michel Temer and numerous members of his administration were recently alleged to be involved in corruption and bribery. 
However, these charges were recently dismissed by Brazil's electoral court, and federal prosecutors will consider the corruption cases separately, according to a Reuters report.
Despite these setbacks, manufacturing activity in Brazil improved in May 2017, mainly driven by improved demand conditions. The chart above shows the country's manufacturing activity over the last year.
Article continues below advertisement
Output reaches four-year peak
The Markit Brazil Manufacturing PMI increased to 52 in May 2017 compared to 50.1 in April 2017. This manufacturing activity outpaced market expectations of 50.5 in May 2017, which indicated the strongest expansion in manufacturing activity since February 2013.
Increase in new orders
New orders increased in May 2017, resulting in a sharp increase in production in the last five years. As the largest subcomponent of the PMI, new business grew at the fastest pace in the last four years. New orders increased as demand improved domestically and internationally.
New business expanded from Europe (HEDJ) (VGK) and Latin America (ILF). The exports from Brazil (EWZ) increased 12.6% on a year-over-year basis in May 2017, mainly driven by sales of semi-manufactured products.
Article continues below advertisement
Purchasing activity and employment
Buying activity in Brazil has experienced its strongest growth in the last three years, and the rate of job cuts remained at its lowest point over the last couple of years. Meanwhile, cost pressures increased due to the expensive import of raw materials, which resulted from a weaker Brazilian real against the US dollar (UUP) (USDU).
Investment impact
Investors need to watch the current political development in Brazil (BRAZ), which can shape the investment climate in the country in 2017. Crucial economic reforms are expected to be delayed due to the government's corruption scandal.
Business sentiment in Brazil (UBR) fell to its lowest point in May 2017 with the latest addition to its history of corruption in its political groups. The corruption scandal could also impact its pension and labor reforms, which were expected to put Brazil (EWZ) on the path to economic recovery.
In the next part, we'll look at Indonesia's manufacturing activity in May 2017.