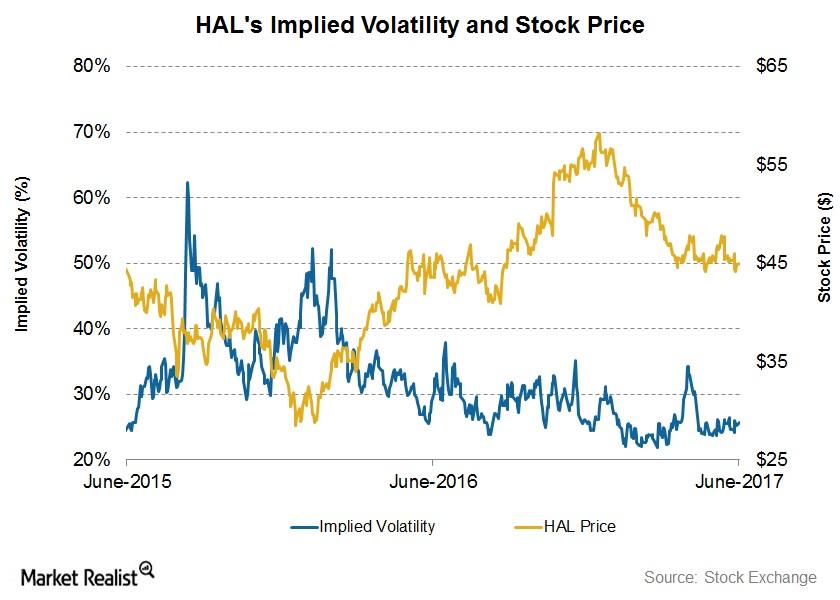 What Investors Can Expect from Halliburton
Halliburton's implied volatility
On June 13, 2017, Halliburton's (HAL) implied volatility was 24.1%. Since Halliburton's 1Q17 financial results were announced on April 24, 2017, its implied volatility has fallen from 25% to the current level. Halliburton accounts for 0.16% of the iShares Dow Jones US ETF (IYY). IYY has risen 2% since April 24, 2017—compared to an ~4% decline in Halliburton's stock price.
Article continues below advertisement
Did implied volatility decrease?
On June 12, Halliburton announced that Christopher Weber will be the company's new CFO starting on June 22. Following the news, Halliburton's implied volatility fell from 25.7% on June 12 to ~24% on June 13. On March 6, Mark McCollum, Halliburton's former CFO, left to immediately join Weatherford International (WFT) as its new CFO.
Forecast for Halliburton
Based on Halliburton's implied volatility and assuming a normal distribution of stock prices and one standard deviation probability of 68.2%, Halliburton stock will likely close between $47.37 and $44.31 in the next seven days. Halliburton's stock price was $45.84 on June 13, 2017.
Implied volatility for Halliburton's peers