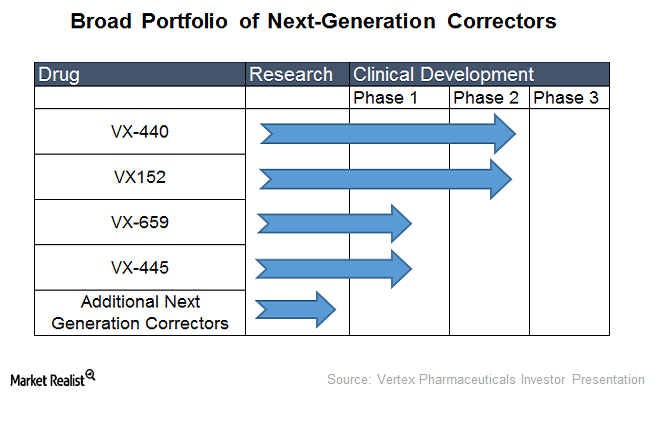 Inside Vertex Pharmaceuticals' Clinical Pipeline
Pipeline trends
In March 2017, Vertex Pharmaceuticals (VRTX) announced promising results from two phase-3 clinical trials, Evolve and Expand, as well as a Tezacaftor-Ivacaftor combination therapy for individuals with cystic fibrosis.
The Evolve clinical trial investigated the combination therapy of the Tezacaftor-Ivacaftor combination in patients with two copies of F508del mutation. The trial met its primary endpoint by demonstrating improvement in predicted forced expiratory volumes in one second (ppFEV1) over 24 weeks, as compared to the placebo. The combination depicted an improvement of four percentage points in ppFEV1, as compared to the placebo.
The Expand clinical trial was conducted with the Tezacaftor-Ivacaftor combination on individuals with one mutation that manifests in the residual CFTR (cystic fibrosis transmembrane conductance regulator) function and one F508del mutation.
The trial achieved its primary endpoint by demonstrating a significant change in ppFEV1. The Expand study demonstrated that the combination therapy showed an improvement of 6.8 percentage points in ppFEV1, as compared to the placebo.
Article continues below advertisement
Next-generation correctors
Vertex is also conducting clinical trials with next-generation correctors for the treatment of cystic fibrosis. Next-generation correctors help increase the presence of CFTR proteins at the surface of the cell. These next-generation correctors can be added to first generation correctors to increase therapy effectiveness.
Vertex is evaluating next-generation correctors as a triple combination regimen with Tezacaftor and Ivacaftor. Vertex is conducting a phase-2 clinical trial with its next-generation correctors VX-440 and VX-152. Other next-generation correctors in Vertex's clinical pipeline include VX-659 and VX-445, both of which are in phase-1 trials.
Pfizer (PFE), Proteostasis Therapeutics (PTI), PTC Therapeutics (PTCT), and other companies are actively conducting clinical trials for the commercialization of drugs for the treatment of cystic fibrosis.
Notably, the Vanguard Growth ETF (VUG) has ~0.30% of its total portfolio holdings in Vertex.