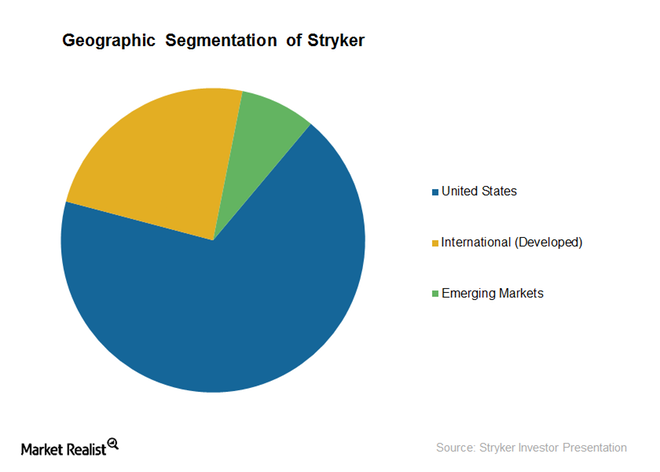 How Stryker Plans to Capture the International Markets
<p>Most of Stryker&#8217;s emerging market sales are from China. However, Europe and emerging markets sales have witnessed high growth in recent quarters.</p>
Stryker's geographic portfolio
Stryker is a leading medical technology company with a worldwide presence. However, the United States remains its biggest market. In fiscal 2016, Stryker generated approximately 73.0% of its total sales from the United States. Emerging markets contribute about 6.0% to total company sales. Most of Stryker's emerging market sales are from China. However, Europe and emerging market sales have witnessed high growth in recent quarters. International growth has also been one of the Stryker's core growth strategies. For more on Stryker's growth strategies, read How Are Stryker's Core Strategies Working Toward Its Growth?
Article continues below advertisement
Article continues below advertisement
In fiscal 2016, peers Medtronic (MDT), Zimmer Biomet Holdings (ZBH), and Becton Dickinson (BDX) registered international sales of about 43.0%, 49.0%, and 45.0%, respectively, of their total sales. You can invest in the Vanguard Growth ETF (VUG) for diversified exposure to Stryker. SYK accounts for ~0.40% of VUG's total holdings.
Untapped market opportunities
In early 2015, Stryker established the Transatlantic Operating Model (or TOM), which was focused on restructuring its European operations and harnessing undertapped market opportunities. In early 2016, Canadian operations were included in the company's TOM model. For more on TOM, read How Stryker Plans to Leverage the Under-Tapped Europe Opportunity.
Europe was accretive to Stryker's growth in 2016 and showed significant growth in 1Q17, especially in the company's MedSurg business. China is expected to be a big growth driver for the company in the near future. The company is in the process of making some operational changes to its Chinese business model due to recent destocking issues and other distributions related to operational challenges in China. Stryker expects Chinese sales to be flat this year with growth expectations for next year.