How Are Stryker's Core Strategies Working Toward Its Growth?
Stryker (SYK) registered strong 3Q16 earnings on October 27, 2016. The company's reported earnings exceeded analysts' estimates.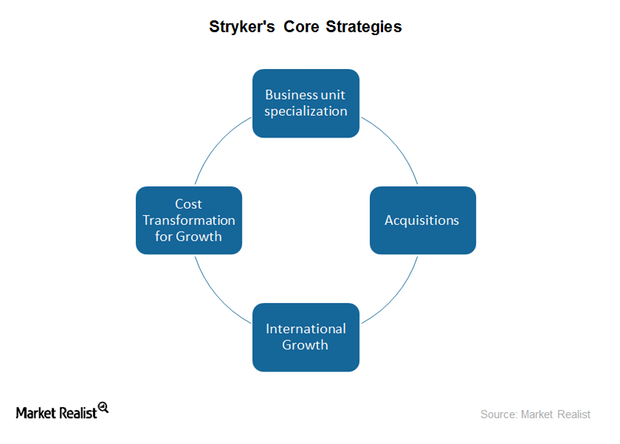 Growth strategies
Stryker (SYK) registered strong 3Q16 earnings on October 27, 2016. The company's reported earnings exceeded analysts' estimates. For details on Stryker's 3Q16 earnings, read How Did Stryker Perform in 3Q16?
Stryker continues to drive strong organic growth through its innovative product portfolio and strategic inorganic growth strategies. The company is focused on establishing itself as the category leader in all of its operating segments through diversification and expansion across product lines and geographies. Toward the same goals, the company has established four core growth strategies: business unit specialization, acquisitions, international growth, and cost transformation.
Article continues below advertisement
Article continues below advertisement
Some other major companies in the US medical device industry that have improved on their key growth strategies, registering tremendous growth in recent quarters, include Thermo Fisher Scientific (TMO), Abbott Laboratories (ABT), and Baxter (BAX). Investors can gain exposure to Stryker and its peers by investing in the iShares U.S. Medical Devices ETF (IHI).
Business unit specialization
Stryker has dedicated business development, sales and marketing, and R&D (research and development) teams. This structure helps the company to drive focused innovation and acquisitions to help accelerate its growth.
Article continues below advertisement
Acquisitions
Mergers and acquisitions (or M&A) have been Stryker's key growth strategy and its highest capital allocation priority over the years. The company has added an enhanced number of core business divisions through its strategic acquisitions. Over the last six years, Stryker has acquired more than 40 companies, followed by successful integrations.
International growth
Stryker has been actively focusing on international markets in recent years in order to leverage their huge untapped market potential. Since 2015, Stryker has seen substantial growth in emerging markets and Europe.
Driven by Stryker's transatlantic operating model, Europe became accretive to the company's sales in 2015, and it continues to be a key growth driver in 2016. For more information on Stryker's Europe strategy, read How Stryker Plans to Leverage the Under-Tapped Europe Opportunity.
Cost transformation for growth
Stryker has consistently focused on cost transformation initiatives to reduce its costs and contribute to consistent operating leverage. The company's cost transformation for growth (or CTG) strategy has contributed significantly toward its growth. We'll discuss this strategy in detail later in this series.
In the next article, let's have a look at Stryker's international growth strategy.