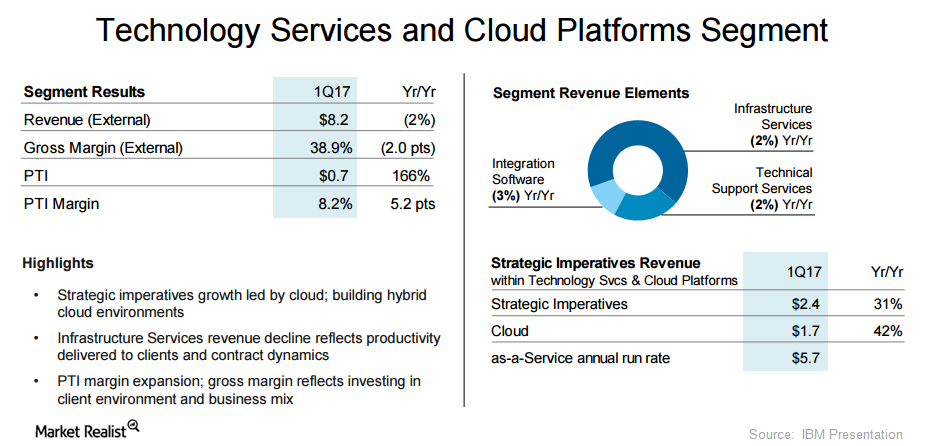 How IBM's Global Technology Services Segment Has Performed
GTS revenue fell 2%
Let's take a look at IBM's Technology Services and Cloud Platforms segment's performance. This segment encompasses the company's GTS (global technology services) business and its cloud infrastructure and platform capabilities.
In 1Q17, IBM's GTS revenue accounted for ~45% of its total revenue. Its performance is crucial to IBM's overall growth. In 1Q17, just like overall revenue, this segment failed to grow. It fell 2.0% to $8.2 billion.
The segment's strategic imperatives business's revenue rose 31% in constant currency terms. Hybrid cloud services continued to play a prominent role in the segment, and its cloud-as-a-service revenue rose more than 50%. Its annual as-a-service run rate was $5.7 billion in the most recent quarter.
Article continues below advertisement
Amazon's focus on hybrid cloud could impact IBM's dominance
IBM is a leader in the hybrid cloud space. According to a research report released early in 2017 by hardware technology company (QQQ) NetApp (NTAP), information technology managers in the United Kingdom (EWU), France, and Germany (EWG) have recognized the benefits of adopting hybrid cloud technology.
This trend bodes well for IBM. However, the recently announced partnership between VMware (VMW) and Amazon (AMZN) poses a threat to IBM's dominance in the hybrid cloud space.