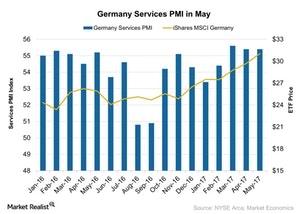 Why Germany's Services PMI Didn't Change in May
Germany's services PMI in May
According to data provided by Markit Economics, the final Markit Germany services PMI (purchasing managers' index) stood at 55.4 in May 2017. It didn't change in May—compared to April. The PMI beat the preliminary market's estimation of 55.2.
Key factors behind Germany's services PMI include the following:
Production output increased marginally in May 2017—compared to April. However, new orders grew more in May.
Business activity improved marginally in May—compared to April 2017.
Employment slowed down in May.
Article continues below advertisement
Article continues below advertisement
Performance of various ETFs
The iShares MSCI Germany ETF (EWG), which tracks Germany's economic performance, rose 3.8% in May 2017. The iShares MSCI Eurozone ETF (EZU), which tracks the performance of the Eurozone (HEDJ) (FEZ) (IEV), also rose 4.2% in May.
Germany leads in manufacturing activity in the Eurozone economy. Germany is a major manufacturing hub in the Eurozone. However, it's gradually shifting its focus towards the service industry. The gradual improvement in its service activity is a positive sign for the economy.
In the next part of this series, we'll analyze the performance of France's services PMI in May 2017.