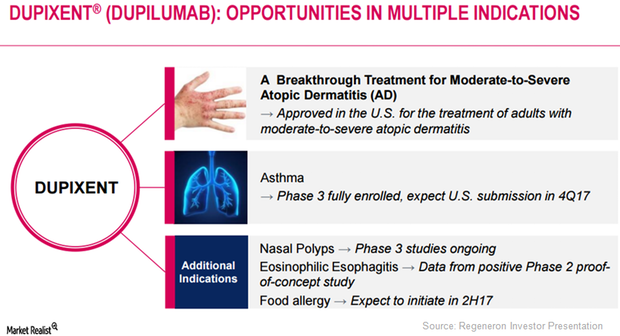 Dupixent May Prove Effective in Multiple Diseases
IL-4 and IL-13 pathways
Regeneron Pharmaceuticals (REGN) and Sanofi (SNY) have been exploring the efficacy of Dupixent in treating multiple allergic conditions caused by overactivity of the IL-4 (interleukin 4) and IL-13 (interleukin 13) immune pathways in the body. Overactivity of IL-4 and IL-13 in the skin results in atopic dermatitis (or AD), while overactivity in the upper gastrointestinal (or GI) tract is manifested as eosinophilic esophagitis (or EoE). Overactivity of these pathways can also result in multiple allergic conditions. Since Dupixent is targeting the root cause of these allergic conditions, it could prove more effective than other medications that target indications separately.
Article continues below advertisement
Article continues below advertisement
The current regulatory framework, however, is limited to an indication-based treatment approach. Regeneron plans to discuss Dupixent's innovative mechanism-based treatment approach with regulatory authorities. If it's successful in these negotiations, approval could have a favorable impact on Regeneron stock as well as the stock of the iShares Nasdaq Biotechnology (IBB). Regeneron makes up about 7.8% of IBB's total portfolio holdings.
Pediatric indications
Currently, Regeneron and Sanofi have started enrolling patients in a Phase 3 trial to study the effectiveness of Dupixent for pediatric asthma.
It's estimated that 33.0%–34.0% of atopic dermatitis (or AD) patients are below the age of 12 years. Dupixent is currently being explored in an ongoing Phase 3 trial as a treatment option for adolescents between the ages of 12 and 17 years suffering from AD. In 2Q17, Regeneron and Sanofi plan to initiate another Phase 3 trial to test the effectiveness of the drug in the pediatric population, or children between the ages of six and 11, suffering from AD. The FDA (U.S. Food & Drug Administration) has also recognized the high level of unmet demand in the pediatric AD segment and has granted a breakthrough therapy designation to Dupixent for pediatric as well as adolescent AD indications.
These label expansion efforts are expected to enable Regeneron to compete effectively with other allergic condition players such as Teva Pharmaceutical (TEVA) and GlaxoSmithKline (GSK).
In the next part, we'll look at growth prospects for Dupixent in EoE and food allergy indications.