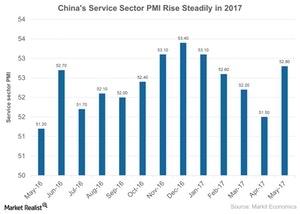 Does Rise in Service Sector PMI Suggest Smooth Transition for China?
China's structural transition
A solid improvement in China's (FXI) service sector in May 2017 provided a much-needed support, as its economy currently struggles with its manufacturing sector. Over the last few years, the contributions of China's (MCHI) service sectors have helped in the transition from a manufacturing-driven to a consumption-driven economy. The service sector in China has seen a tremendous performance. As the chart below shows, PMI (purchasing managers' index) has consistently been above the critical mark of 50, which indicates expansion.
Article continues below advertisement
Article continues below advertisement
Service sector performance in May 2017
The Caixin China Services PMI jumped to 52.8 in May 2017 as compared to 51.5 in April 2017. The service sectors expanded in May 2017 at a solid pace resulting from a rise in new businesses in May 2017. The performance of the service sector is in contrast to the weaker new order growth in the manufacturing sector in May 2017. The unfinished workload also increased in May in the service industry after a slight fall in April 2017.
Employment and price pressures
The improvement in new orders helped employment levels increase in May 2017. However, the rate of job creation struggled as compared to the last nine-month growth. On the price front, the cost pressures increased as input prices, which include the staff costs, rose as compared to the six-month low in April 2017.
The Chinese (ASHR) service sector expects input price inflation to rise in the next 14 months according to the June Markit report. The optimism in the service sector for May 2017 has improved for the next-year period as compared to the five-month low in April 2017.
Investments
The service sector in China accounts for about 44% of total output as of 2016 and includes the wholesale and retail subsectors. The growing size of the Chinese market provides a tremendous opportunity for the service sector in coming years. Investors interested in consumer-driven sectors can track ETFs like the Global X China Consumer ETF (CHIQ) and the Global X China Financials ETF (CHIX). Investors can take advantage of the size of the Chinese market across the retail, food, consumer, and financial sectors through these ETFs.
For more information on the Chinese economy, read Analyzing China's Stock Market and Expectations for 2017.