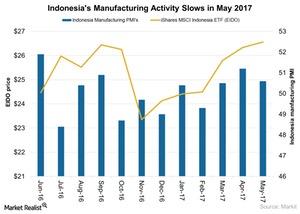 Did Indonesia's Manufacturing Lose Momentum in May 2017?
Manufacturing sector in Indonesia
The economic growth in emerging markets (EEM) is highly dependent on structural and economic reforms. The Indonesian economy (EIDO) is no different, and its growth hangs on economic reforms by its populist president, Joko Widodo.
Through its economic reforms, the Indonesian government plans to increase its investment in public infrastructure, reduce bureaucracy, and liberalize the economy. These efforts could support its manufacturing activity in 2017. The chart below shows Indonesia's manufacturing activity over the last year.
Article continues below advertisement
Article continues below advertisement
Slower rate of expansion in May
The Nikkei manufacturing PMI in Indonesia (IDX) dropped to 50.6 in May 2017 compared to 51.2 in April 2017. The manufacturing PMI remained above 50, indicating overall expansion and improved operating conditions for goods producers.
However, manufacturing activity in Indonesia in May 2017 seemed to have lost momentum as new orders increased at a slower pace compared to April. However, new export orders have increased at a stronger pace since September 2016.
Factors impacting manufacturing PMI
The slower increase in manufacturing production significantly impacted the manufacturing PMI in May 2017. The competitive pressures and a shortage of raw materials also affected its output despite an increase in order book volume in May 2017.
The country's purchasing activity also grew for three consecutive months through May 2017. Price pressures, including input and selling prices, increased at a slower pace in May 2017 compared to April 2017. Employment declined marginally, and work backlogs saw the sharpest drop since February 2017.
Investment impact
The economic performance of Indonesia (IDXG) has slowed in the last few years, mainly impacted by the global economic slowdown and the rebalancing act of China (FXI) to move to a consumption-driven economy. The structural reforms in China (MCHI) are expected to impact economic activity in Indonesia, considering the increasing trade relations between the two nations.
Domestic demand continues to be the strength of the Indonesian economy and could support manufacturing activity in 2017. The iShares MSCI Indonesia ETF (EIDO), which tracks Indonesian equities, has gained about 10% so far in 2017 through June 9, 2017.
In the next part, we'll look at manufacturing activity in Greece.