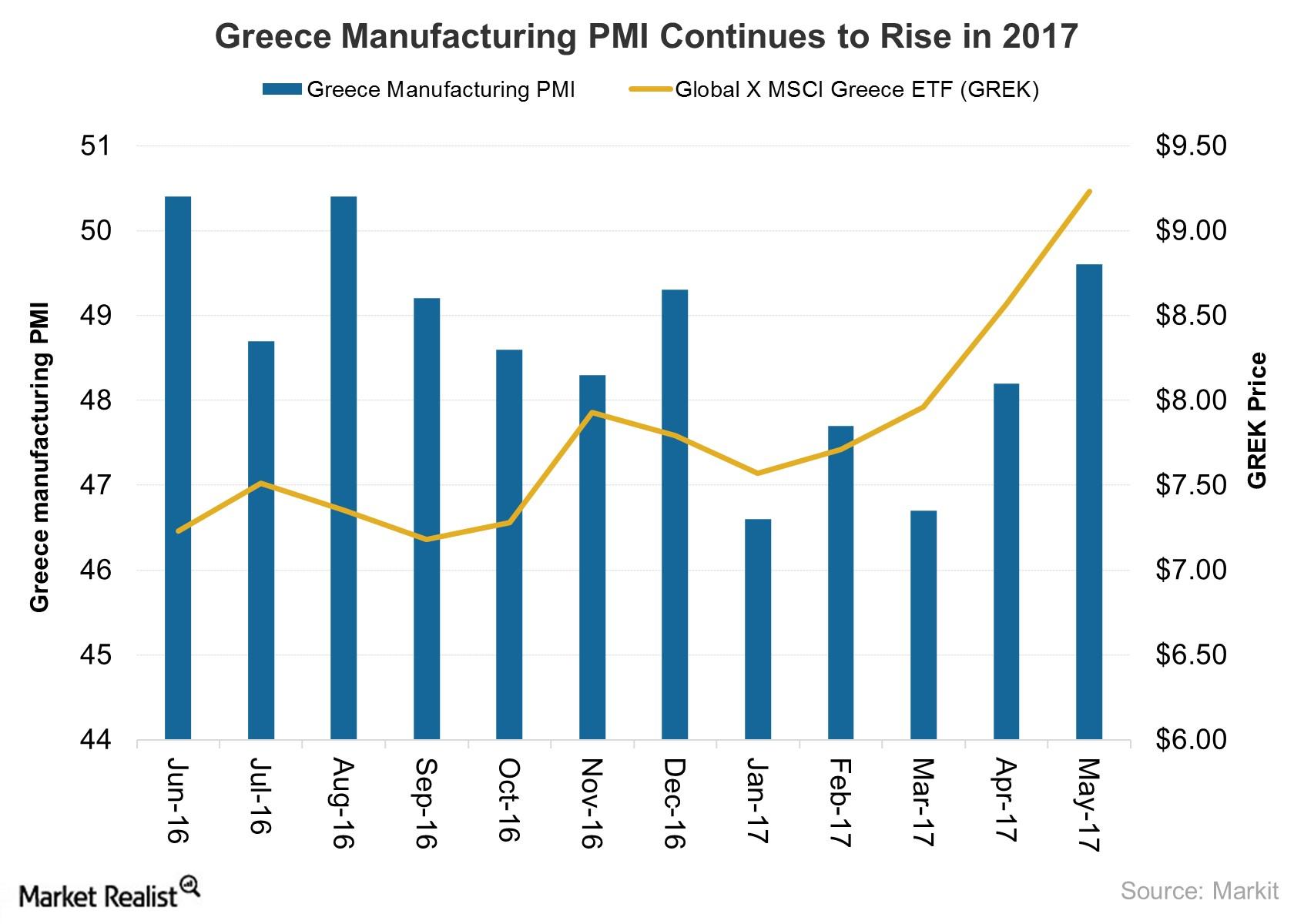 Did Greece's Manufacturing Activity Improve amid Growth Expectations?
Manufacturing activity in Greece
The economic situation in Greece (GREK) is worsening amid the country's high debt burden and failed bailout attempts. Despite these setbacks, Greece's economy grew ~0.4% in 1Q17, retreating from the previous estimates of a 0.1% contraction in GDP for the same period.
The expansion in 1Q17 follows increased consumer spending and government consumption. Manufacturing activity in Greece also improved in May 2017 compared to the previous month. The chart below shows the manufacturing activity in Greece over the last year.
Article continues below advertisement
Article continues below advertisement
Greece's manufacturing sector performance
The Markit Greece Manufacturing PMI advanced to 49.6 in May 2017 compared to 48.2 in the previous month. Despite the recent advance, manufacturing activity posted the ninth straight month of contraction as the PMI remained below the critical mark of 50 in May 2017.
New orders continued to drop, resulting in reduced output during the month. However, the rate of decline eased, leading to an overall rise in the manufacturing PMI in 2017.
Employment increased for the first time in the last six months due to increased optimism regarding output growth going forward. Price pressures increased as input costs rose compared to a drop in selling prices.
Looking ahead
Greek businesses remained optimistic about the growth in output over the next-12-month period. According to the latest IMF economic outlook report, Greece's economic output is estimated to grow 1.3% and 1.4% in 2017 and 2018, respectively.
The improved economic activity in Greece could positively impact investments in Europe in 2017. The related exchange-traded funds include the iShares MSCI EMU ETF (EZU), the Vanguard FTSE Europe ETF (VGK), the iShares S&P Europe ETF (IEV), and the SPDR EURO STOXX 50 ETF (FEZ). These ETFs could benefit from improved manufacturing activity in Greece.
In the next part, we'll look at Russian manufacturing activity.